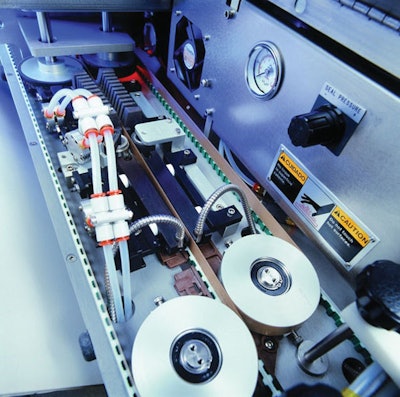 In recent years, the tobacco industry has faced many challenges resulting from increased competition from cheap foreign imports and intense litigation. Confronted with falling prices and shrinking revenues, many family farms have gone out of business. Yet, fourth-and fifth-generation Kentucky tobacco growers Bob Ammerman and his son Mike have found success with a model that emphasizes whole leaf tobacco and exacting quality standards for their cigarette products.
The Ammerman's company, Farmer's Tobacco of Cynthiana, Inc., Cynthiana, KY, launched the Kentucky's Best brand of cigarettes in 2001. The cigarettes are made with top-quality whole leaf tobacco that does not require added chemicals to enhance burn rate or retain flavor. These features have helped Kentucky's Best become one of the quickest-growing brands in the industry.
Recently, the Ammermans saw an opportunity to expand their established brand with a product line extension. Because of higher tax rates on carton cigarettes in Kentucky and many neighboring states, there has been increasing demand for "roll your own" (RYO) tobacco delivered in a bag format. This represented a significant opportunity to expand the Kentucky's Best brand into the RYO market.
Having previously concentrated exclusively on premade cigarettes in cartons, Farmer's Tobacco required an entirely new packaging solution to offer their tobacco as a RYO option. A key requirement was a resealable bag that would keep the tobacco fresh during storage and use. An additional need was a flexible solution that would allow for different bag sizes and future packaging line upgrades.
A packaging challenge
The key challenge was to design a packaging line concept that would convey, weigh, and package loose-leaf tobacco. At the Farmer's Tobacco facility in Cynthiana, tobacco is processed from a centralized delivery system. Boxes of tobacco blend are loaded into a main hopper that distributes incoming product to different machine stations throughout the factory.
An initial option was to develop an automated, high-speed solution. However, at this early stage in the product life cycle and given an untested niche market, the decision was made to find a more cost-effective, flexible solution with standard machines that would offer the speed and efficiency benefits of a high-performance line while avoiding the investment associated with automation.
The packaging requirements were relatively straightforward. Farmer's Tobacco had already decided on two sizes—6 and 16 oz—of polyethylene bags, branded with the company's red horse-head logo printed over an image of the state of Kentucky. Four flavors were planned for the initial rollout: Full Flavor, Light, Menthol, and Ultra Light. The clear packaging film material was critical for success in the RYO market, as research has indicated that consumers like to view the product to inspect for quality. A resealable closure was also important to ensure freshness during use and storage.
Accurate seal placement is critical
Important elements of the new bagging line included an incline belt conveyor to handle product flow and a scale system to measure and dispense product. However, the critical component of the operation was the band sealer from Bosch Packaging Technology (www.boschpackaging.com). Bosch's B-500 continuous band sealer offered industrial performance in a compact size, an ideal solution for a company attempting to upgrade its operations and enter a niche market in a cost-effective manner.
During operation of the new line, after the tobacco reaches the machine station from the centralized distribution system, the product is flowed on an inclined belt conveyor. From the conveyor, the tobacco enters a weighing system from Weigh Right (www.weighrightasc.com). Product is vibrated into a weighing bucket through a combination bulk-dribble delivery process. Bulk delivery dispenses about 99% of the product weight for one bag, after which the dribble function takes over, delicately dispensing the exact amount of product and ensuring an extremely accurate final weight. Once the specified weight fills the weighing bucket, it opens up and dumps the product into the bag.
After product sorting and checkweighing, the filled tobacco bag is manually presented to the Bosch B-500 heat-sealer system, which applies the final seal using one pair of 5-in.-long sealing bars. After sealing, the finished product is placed in secondary packaging for distribution. The weighing and sealing process is conducted by one operator—an important requirement for Farmer's Tobacco to keep labor costs down and simplify operations.
A key benefit to the machine is its precision placement of seals. Placing the seal too high up on the bag may cause the seal to be ruined on initial opening and inhibit resealing. Placing it too low may cause product bunching and affect quality. Consumers must be able to open and reclose the package and access the product in a convenient way, and a consistent, reproducible seal is an important packaging feature, especially for a newly launched product. The B-500 accomplishes this with bag-top control with full-length urethane timing belts that grip the bag to assure consistent speed and bag control. Heating and cooling bars provide consistent pressure throughout the sealing process.
Flexibility was also an important feature for the equipment, especially when considering the future potential for growth of the RYO tobacco line. Even with just two product sizes, changeover flexibility is important. With the B-500, changeover from different product parameters is accomplished without tools and with minimal machine adjustments.
With manual feeding into the sealer, the B-500 is currently running at 12 to 14 in./min, or 6 to 8 bags/min. However, the machine is designed to accommodate higher-speed applications and can process linear speeds up to 750 in./min. This ensures that if demand for the bagged tobacco product rises, Farmer's Tobacco could add two weighing and filling stations, or even augment line capacity with an automated infeed and still continue sealing with the B-500.
New product opens up new markets
The new packaging line was installed in early 2008, and Farmer's Tobacco was beginning to see positive results in the market with its new line of RYO tobacco by April 2008. Critical to the success was the packaging solution delivered by Bosch. "We really see the packaging itself as adding significant value to our tobacco product," says Desha Henson, general manager of Farmer's Tobacco. "Extending the Kentucky's Best brand into the RYO market was a significant opportunity to grow our business. The B-500 band sealer was the best option for our needs and enabled us to deliver our high-quality product in a format that consumers wanted."
Companies in this article