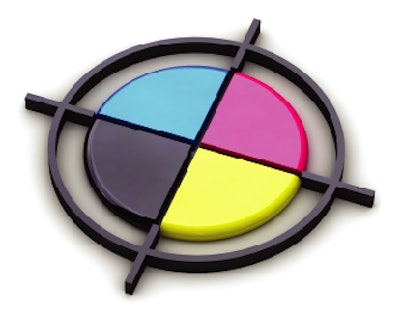 Color management
: A technology that translates the colors of images, graphics, or text from their current color space to the color space of the output devices, such as monitors or printers.
Comparator: In analog computing, a functional unit that compares two analog variables and indicates the result of that comparison.
PDF: A Portable Document Format is a file format created by Adobe that uses the PostScript printer description language and is highly portable across computer platforms.
Pixel: Short for picture element, a dot made by a computer, scanner, or other digital device.
Prepress: Also called preparation. Includes camera work, stripping, platemaking, and other functions performed by the printer, a separator, or a service bureau prior to printing.
Printing plate: A surface—made of metal, plastic, rubber, paper, or other materials—that carries an image to be printed. Print processes such as offset litho use the plates to transfer an image to paper or other substrates.
Proof: A test sheet made to reveal errors or flaws, predict results on press, and record how a printing job is intended to appear when finished.
Trap: The ability of an ink film to print over an underlying surface.