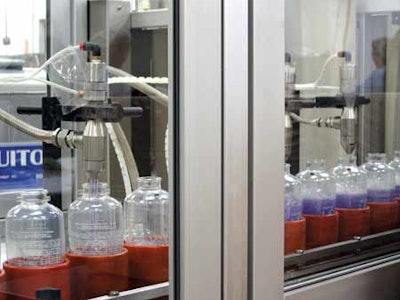 Director of Marketing Michael J. Kermendy estimates that 70% of the company's sales come from its own products, while the remainder is contract manufactured and/or packaged for major consumer product companies for private-label or well-known brands.
Wisconsin Pharmacal brands are primarily outdoor health and safety products such as first-aid kits, sunscreen, sting-relief products, and even a fishing aid line called Baitmate. Lake Consumer Products primarily produces feminine hygiene products and dietary supplements.
A recent Packaging World visit to the plant saw the company using packaging materials that included tubes, rigid plastic bottles, glass amber bottles, and blister packs. The company produces between 100 to 150 skus on seven packaging lines. These range in size, Kermendy says, "from suppositories that contain just grams of product, up to the 11.5-oz Beyond Fresh Intimates. Product formulations are in cream, liquid, gel, and tablet forms."
See the main story that goes with this sidebar: CP's eleventh-hour remedies work for Wal-Mart
Companies in this article
Videos from Universal Labeling Systems, Inc.