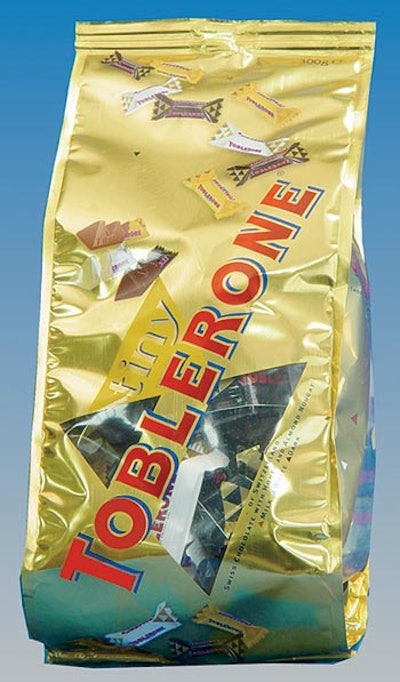 Technology is playing a vital role in the futuristic look and feel of several new flexible packages. So says the Flexible Packaging Assn. in announcing the winners of its 2004 Flexible Packaging Achievement Awards.
Entries for the competition swelled to a record 126 this year, with 28 packages receiving 36 total awards. In this article, Packaging World reports on the 10 Gold award winners. (For details on packages earning Silver awards, see: packworld.com/go/113).
For the fourth straight year, Highest Achievement Awards were given to two packages. They are:
• Kraft's Tiny Toblerone stand-up candy pouch "whose stunning good looks are achieved through a revolutionary new in-line demetallization process," according to FPA.
• Cardinal Health's DelPouch Single Dose Frangible Applica-tor that FPA says "offers an innovative method of delivering ointments and creams in a
single-dose flexible package."
The outer 300-g pouch for Kraft Foods' individually wrapped Tiny Toblerone-brand candies (1) also earned Gold awards in the Environmental, Printing, and Technical categories. To produce the outer pouch, converter Amcor Flexibles employed its Amcor DeMetXP in-line demetallization process. The Tiny bags are made at Amcor Flexibles' Halen plant in Belgium.
The first step is eight-color gravure printing on the surface of an oriented polypropylene film, done on a Rotomec press. That outer film is adhesive-laminated to a layer of metallized OPP. Total thickness is 2 mils. Guy Grossard, Amcor's product manager, says, "the primary wrap on the individual pieces takes care of the barrier needs." After laminating, the structure goes through a demetallizing bath.
Grossard explains, "We print, laminate, and demetallize in-line on equipment we modified. By doing it in-line, we have better control over quality, and we can see immediately the effect of the demetallization. In a more traditional process, you would print, apply lacquer, rewind the film, then send it through a separate demetallization step. If anything was wrong, you wouldn't notice it until afterwards. With this process you [create] less waste."
Another advantage of the in-line process, Grossard says, "is that it doesn't wash away the metal. Traditional demetallization attacks everything that is not protected by the lacquer, washing away a thin layer of aluminum." With the DeMet process, the metal layer is not removed from the film, but rather, "the chemical reaction turns the aluminum into a transparent layer," says Grossard. "It provides an advantage for us because it doesn't produce the environmentally unfriendly waste water," common with the traditional process.
But the critical advantage is the result: a stunning gold metallic look and triangular clear windows on what will become the front and two sides of the pouch. Together, the graphics and windows of the outer pouch complement the metallic-looking graphics on the individually wrapped candies that are visible to consumers through the windows.
Grossard says, "You could just print onto a transparent bag, but then you'd have a totally different look on the outer pouch compared to the primary packages. And if you wanted to achieve the metallized look of the primary pack, you would need to use very expensive metal inks."
Tiny Toblerone was launched in January. They're sold globally, primarily in travel and duty-free shops at airports and on cruise ships. Each package contains three basic flavors: milk, dark, and white chocolate. Kraft worked with a third-party firm to create bag graphics. Product is produced at a Kraft Foods confectionery plant in Switzerland, according to Elisabeth Misteli, manager of communications for Kraft Foods, Bern, Switzerland.
"Tiny Toblerone are individually flow-wrapped," she says, "and the hermetic foils provide the best protection and hygiene for the chocolates." Misteli says the product has a 12-month shelf life.
"The stand-up bag is unique," she says, adding, "Toblerone is the first-and-only registered shape for chocolate, and is the ultimate symbol for Swiss chocolate worldwide. The triangularity is reflected in the three triangular windows." So the package design identifies the candy's three-sided shape, with three peaks, three flavors, and three windows. "This background communicates the idea of a new Toblerone generation," Misteli concludes.
Versatile applicator package
A highly engineered structure—and custom fabrication equipment—is the key to the development of the DelPouchTM (2). It also earned FPA's Highest Achievement Award. The pouch is called a "single-dose frangible applicator" and the concept is patented by Cardinal Health Pharmaceutical Technologies & Services, the Somerset, NJ-based healthcare provider that will make and fill the pouches.
The award went to Pechiney Plastic Packaging, the company that developed the substrate for Cardinal. At the outset, says James Sikorsky, corporate business development manager of Pechiney, the new pouches will be used for topical creams and ointments. What makes the DelPouch unique is that a consumer simply squeezes the pouch to break the frangible seal. That releases the product into a foam applicator heat-sealed to the top of the small pouch. Aside from the frangible seal, the pouch is sealed on contoured sides and bottom at high temperature for lock-up seals.
Under development for more than two years, the substrate had to be able to hold a variety of liquids and creams, according to Bruce Detwiler, Cardinal's senior project engineer. The first Cardinal product in the DelPouch is a medical application: a product to treat a skin discoloration issue in Africa.
"Originally, we expected to have this product ready for our fourth quarter that ends in June '04," Detwiler says. "Now, it looks like it'll be launched sometime later this coming summer." The project was delayed when Cardinal switched pouch printers and it discovered seal contamination.
However, Detwiler points out, Cardinal is looking at products as diverse as cosmetics to prescription drugs, what he calls "at least 50 good business opportunities" for this technology. "They didn't make it easy on us," Pechiney's Sikorsky says. "Cardinal Health wanted a lamination that it could use across every possible type of application. What it didn't want was different specs for different products."
When Cardinal produced the list of products it wanted to fill into the pouch, organic chemists at Pechiney's technical center in Neenah, WI, went to work to identify aggressive, volatile molecules in the products that could attack the packaging materials.
The result is what Sikorsky calls a "tank." The 51?4-mil material is what he calls a hybrid, combining both an adhesive and an extrusion lamination. The frangible seal is provided by a seven-layer coextruded blown film that incorporates high-density polyethylene and ethylene vinyl alcohol copolymer. This is adhesive-laminated to a polyester that Sikorsky says offers "an amorphous-type barrier." Above the polyester is another adhesive followed by 0.00035" aluminum foil. On top of the foil is another coextrusion of white low-density PE and ethylene acrylic acid, followed by a surface layer of polyester. "You can pretty much put anything in that," Sikorsky says.
Detwiler says that while Pechiney was developing the structure, he worked with Harro Höfliger to develop a custom machine that would convert the rollstock into the pouch and seal the foam applicator at the top. Currently, tooling is available for what he calls a 0.5-g dispensing size and another that holds twice as much. However, he says the machinery is flexible enough that it could probably produce pouches up to 3 to 4 g in capacity.
Because of adhesion, Cardinal uses a polyester/polyurethane-blended foam piece from Foamex. Depending on the viscosity of the product, the foam selected will have differing densities. "We've packaged products from a viscosity level of one, like water, up to 90ꯠ centipoises," he notes. The size of the foam disk can also be adjusted as needed. Secondary packaging will be required to keep the foam sanitary.
Surprisingly, Detwiler says that adjustments to the seals for different levels of frangibility are relatively simple. "To change 5 psi in force to break the seal, we only have to change the seal temperature one degree Celsius," he states, adding that dwell time and machine speeds stay the same.
Even though the first product is still months away from the market, Cardinal is already looking at twin-compartment pouches that could be used to package a powder and a diluent.
"The structure that Pechiney developed for this is definitely one-of-a-kind," Detwiler admits. "I give them all the credit in the world."
Puncture-resistant shrink bag
Make no bones about it, Curwood's ArmorX™ CBP™ (Complete Bone-In Protection) shrink bag (3) is one tough bag. It is engineered to eliminate the risk of package punctures that could lead to the potentially dangerous contamination of meat products. This is a product extension of Curwood's ABP™ (Absolute Boneguard Protection) product line for large cuts of bone-in fresh pork and beef weighing up to 40 lb. Unlike ABP, the protective boneguard area extends throughout the entire bag and is an alternative to patch bags for large cuts. In this application, the supermarket repackages the meat for retail display.
A Gold award winner for Packaging Excellence, the CBP bag also earned a Silver award for Technical Innovation due to its unique two-ply construction. A continuous lamination of proprietary coextrusion blends, the 6.5-mil thick structure contains polyethylene to enhance puncture resistance and toughness. The result is a bag that provides toughness, shrink, clarity, and protection against bone punctures. Leaker rates have been halved in field tests in extremely demanding applications, according to Curwood.
Because it doesn't use a puncture-protecting patch, the resultant shrink package is said by Curwood to achieve a tighter fit and better appearance than bags with patches. It is also claimed to be readily heat-sealable on rotary chamber vacuum packaging machines at rates to 20 packages/min.
The bag is also suited for case-ready meat applications due to its high clarity, sheen, and shrink properties. It is printable in register on both sides to accommodate high-impact graphics in up to eight flexo-printed colors.
Curwood says ArmorX CBP was test-marketed in summer 2003 and commercialized in December, though an end-user company was not disclosed.
Bag preserves M-16 rifles
Winning Gold for Packaging Excellence in the Technical Innovation category was a complex structure developed with the United States Army, Materiel Command, Logistics Support Activity, Packaging, Storage, and Containerization Center in Tobyhanna, PA. In this instance, the Army was contracted by the U.S. Marine Corps to create a bag (4) that could hold a single M-16 rifle and preserve the gun for years, if necessary, during storage. The structure had to prevent corrosion and provide a window to allow military personnel to see the weapon's serial number for tracking purposes.
Heritage Packaging converts the unprinted three-layer structure that has a thickness that measures nearly 50 mils. The outer 8.7-mil layer itself is a three-layer extrusion-lamination. From the outside-in, it includes Valeron Strength Film's cross-laminated high-density polyethylene film that provides strength and puncture-resistance. Barrier properties come from 0.00035" aluminum foil. On the inside of the film layer is Cortec's Corrlam™, a low-density polyethylene film treated with a vapor corrosion inhibitor. That three-layer structure is heat-sealed to a 30-mil LDPE "netting," which provides additional strength and puncture-resistance. Heat-sealed to the other side of the netting is a 9-mil layer of Cortec VpCI®-126 anti-corrosion film.
Heritage creates a three-sided, heat-sealed bag from the structure, die-cutting a viewing window to make visible the rifle's serial number. A Velcro closure allows easy opening and closing of the bag to retrieve and store the
M-16. The trapezoidal-shaped bag measures about 52" x 13". It's not used for new rifles, but for weapons that have been serviced. The bagged weapons are stored globally.
"In this division, we have lead service responsibility for designated packaging materials and processes," explains Charlotte Lent, an Army industrial engineer based at Tobyhanna. "Our job was simply to test the material and report that it did or did not meet the criteria designated by the USMC. We pass test results on to the Marine Corps."
While the Marine Corps evaluates the new bag, it continues to use a bag designated by the military as the MIL-PRF-131. "It's a water-vapor-proof, grease-proof barrier material, a foil/polyethylene-lamination material that's opaque and heat-sealable," says Lent. "You can't read the rifle's serial number through the bag, so if you need to check on the condition of the weapon, you have to cut open the bag's heat seal. There is a lot of labor, and they were interested in cutting down the labor it required.
"The Marines preserve the weapon, which is prone to rust, with a material called MIL-PRF-3420, a volatile corrosion-inhibitor-impregnated paper, which comes from any number of paper manufacturers. It's very labor-intensive to wrap this rifle up in this paper, then put it in a heat-sealable bag. They have to do this by hand. The Marines wanted a reusable closure so they could get into and out of this bag when it was time to inspect the weapon," says Lent. Those limitations led the USMC to a search for alternative packaging.
The results of material testing led to the "winning" collaboration by Heritage, Valeron, and Cortec. "We had no rust on any of the rifles," says Lent. "And it uses a newer-generation Velcro closure that's very smooth and doesn't stick to other things. This has proven to be a successful candidate for the Marine Corps to look at."
Gold standard for silvertoe gear
When silvertoe gear, a Gold Toe brand, decided to update the packaging for its women's sock brand, it switched from a less-contemporary, unprinted bag with printed paperboard insert, to a stand-up pouch (5) with consumer-friendly reclosable zipper and better overall retail presentation from North State Flexibles. Not only does this Gold-award winning package help reduce waste by eliminating the need for the paperboard insert, it also allows consumers to open and feel the soft socks inside prior to buying, courtesy of a zipper supplied by Presto.
"People were tearing open the old packages in the store by the hundreds," says John Faucette of Burlington, NC-based Gold Toe Brands. "It's been a major problem in department stores.
We were constantly having to bring goods back in for repackaging, or sending packages to the stores for the employees to repack. Once a bag was opened, it was ruined."
The conversion from a simple plastic bag to a stand-up pouch allows the package to be merchandised either on pegs or standing up on the shelf. The rigidity of the package is provided by the 48-ga PET/ink/adhesive/4-mil clear LLDPE structure.
"The material for the old bags was cloudy-looking," Faucette says. "It didn't show the socks very well. Now you can see the socks perfectly. It really makes a good presentation."
The package is reverse-printed by flexo on the polyester, providing a silver back panel and an orange inside panel facing the clear front that helps reinforce the design concept and custom colors essential to the marketing of the brand. Additionally, by burying the inks inside the structure, the package appears glossier and scuff-free.
Rolled out to Sears stores in December, the silvertoe gear women's socks are packed by hand into the bags manufactured by North State.
"The customers that we've shown the new pack just love it, and love the idea," Faucette says. "It makes for a very attractive package. It draws people's attention."
Gold for printed graphics
Gold awards for printing achievement were also bestowed by FPA on worthy packages for their graphics innovation. One is a stand-up pouch for flavored wood chips (6). American Packaging Corp. received the award for the Great Outdoors Hickory Chips package that it converts for Great Outdoors Grill Co., Joplin, MO.
The 2-lb package comprises of a reverse-printed 48-ga polyester that's laminated to 4.5 mils of white linear low-density polyethylene. Printing is done by gravure on a Cerutti press at American's Columbus, WI, plant in seven colors, including four process colors using outdoor, fade-resistant inks, says Richie Black, corporate business development manager for American. The inks come from Inx Intl. and they prevent ultraviolet light from fading, especially the yellow and red colors, Black points out.
Later the printed and laminated material is shipped to American's Story City, IA, plant where it's fabricated into formed pouches on a system from Proven Designs, Inc. Along with the outstanding graphics, American adds a press-to-close zipper from Presto Products. Tear notches provide easy opening, and vent holes are die-cut into the material to allow the dispersal of moisture in the chips.
"This package was developed and introduced in the spring of last year, with the intention to market through the big retailers, primarily Wal-Mart," says Mike Kidwell, materials manager for Great Outdoors Grill Co. "It kind of mushroomed and now it's sold through a lot of other outlets. Once we show the retailers this package, they become enthusiastic about it."
The package graphics were designed by Chaos Designs and the products are made and packed by Barbeque Wood Flavor. The chips are designed to be used in smoker grills using charcoal or gas; both types of grills are made by Great Outdoors.
"Our sales team insisted that we use rotogravure printing," Kidwell says, "because they wanted the best-looking package for this line." The same graphics are employed on a 10-lb bag. The 2-lb bag retails for $1.99; the 10-lb bag sells for $5.99. "We can hardly keep the 10-pound hickory chip package in stock, and the two-pound hickory bag is selling almost as well," Kidwell reports.
Heinz stands up in foodservice
H.J. Heinz and Pechiney Plastic Packaging struck an FPA Printing Gold award with a single-serve, stand-up gusseted pouch (7) used for nine Heinz condiments, including ketchup, mustard, mayonnaise, jams, and syrup.
A new addition for Heinz, the pouch has enabled the company to enter the "mid-tier" hotel market, as well as restaurants. While all products are filled into the same pouch size, fill weights vary between 1 and 1.5 oz, depending on the product. "This is a new foodservice pouch available nationally that began rolling out in October," says Matt Lindner, Heinz foodservice marketing manager.
Slightly more than 3 mils thick, the extrusion-lamination includes an outer polyester layer that's reverse-printed flexographically in seven colors. Pechiney uses Flint Ink's MultiflexTM solvent inks. The printed substrate, says Heinz, is coextruded to the aluminum foil, which is extrusion-laminated to a sealant film.
The use of transparent gold inks creates a shiny, gold frame to the copy on the front and back panels of the pouch that highlight the process-printed image of the product. These panels are accentuated by the pouch's overall black background that provides contrast. Heinz's Lindner credits The Design Center with creating the graphics design.
"Our idea was to present this as a pure food in the H.J. Heinz tradition," says Lindner. "Heinz had preserves before the 1900's. We looked at some of the graphics from back then to help inspire this upscale look, and we used some of the quotes from Henry J. Heinz on the back of the pouches." Two examples: "Quality is to a product what character is to a man," and "To do a common thing uncommonly well brings success."
Lindner says William Rasile, manager of flexible packaging for the company's foodservice division, was instrumental in bringing the pouch to market. Rasile says "we built a package that would provide us ample shelf life." Shelf life is about nine months.
Compared to other condiment packages, these pouches provide consumers with more product, and a large tear notch in the seal area that makes it easy to find, and open. "Younger people, and seniors, have had problems opening traditional condiment packages in the past," says Lindner. "That's the great thing with these. Plus, the consumer can get close to 100 percent of the product out of these pouches."
Pechiney sends rollstock to Portion Pac/PPI for filling and sealing. PPI is a wholly owned subsidiary of Heinz U.S.A. "It's filled on horizontal form/fill/seal machinery," says Rasile. Heinz preferred not to identify the equipment.
Portion Pac ships the pouches in 100-count case quantities. "We sell to restaurants, hotels, and resorts," says Lindner. "A lot of users, we're
finding, are using them poolside because they don't have to worry about glass breakage. While these won't replace the small glass jars we have at some upscale hotels for room service, these pouches offer an option. For a hotel, they're less expensive, and they create less waste. They've really taken off with our customers."
Graphics reflect 'fabulous' work
The snazzy, award-winning packaging for Fafard Seed starter potting soil (8) is well-grounded in innovative techniques. Introduced nationally in late spring '03 at independent garden centers where it sells for $3.99, the stand-up pouch earned a Printing Gold award for Genpak LP.
The 48-ga PET/48-ga metallized PET/2-mil PE structure is supplied premade as 8-dry-quart 14''x16'' gusseted bags by Genpak to Agawam, MA-based Conrad Fafard operations in the United States and Canada. The gusset is 5'' wide.
The graphics were reverse-printed flexographically in nine colors using digital plates on a Fischer & Krecke 10-station wide-web press Genpak installed in mid-2002. "This gearless press allows the package to be printed in perfect and consistent registration," says Genpak prepress manager Bill Reilly. The special fade-resistant inks are supplied by Sun Chemical. The zipper material is standard and from any of several sources, Reilly says. Fafard did its own graphics design.
"We wanted a nice presentation, and the metallic underlayer adds a bit of shine," says Fafard art director Charles Ratterree, who is also the company's buyer of flexible materials. "Shelf presence in the lawn-and-garden category is very important." He also credits GMF Flexo Pre-press for its exemplary prepress work.
The design was separated and printed via Opaltone Seven Color Process™, which uses three colors more than traditional four-color printing. Additionally, two more colors, white and black, were used for Fafard. The single-pass, nine-color result, Reilly says, is that "we are able to get much more color depth and brightness."
"The people involved in this project did a fabulous job, and I couldn't be prouder of the result," Ratterree says. "This product has exceeded our sales expectations." Fafard is set to launch five more products in the same package this spring.
Kroger's sweet results
The block-bottom fabricated bags used for Cincinnati, OH-based The Kroger Co.'s "Private Selection" Chocolate Squares (9) present ample space for product branding and information, while the upright stance offers high visibility for consumers. Additionally, the structure sweetens the bag's environmental aspect. That combination earned Printing Achievement Gold for Amcor Flexibles.
The single-layer 120g/m2 kraft paper is gravure-printed in nine colors and overlaminated with 80-ga clear OPP.
The material is converted by Amcor Flexibles in Germany. Amcor claims that the OPP/kraft structure is a more environmentally positive solution than confectionery wraps since the kraft paper is more recyclable than foil-based materials. For bag sealing, the top flap is folded over and heat-sealed, OPP to OPP.
Amcor also provides the film used for the individually wrapped chocolates packed inside the award-winning bag. The structure is 80-ga clear OPP laminated to 80-ga metallized OPP. Martina Giesberg, Amcor customer service, says a partial cold-seal pattern is applied to the film back so that it can be sealed without heat.
The products are wrapped and bagged by an undisclosed contract packager in Germany and shipped to the United States. The six-product line was introduced during the second half of 2003 at Kroger stores in the United States.
Paperless printing presence
Designed to replace a paperboard carton, the new Costco-brand Kirkland Four Cheese Ravioli pouch (10) is rotogravure-printed to enhance the overall quality and shelf presence of the package. Sold at Seattle, WA-based Costco Wholesale Brands' club stores, the 48-ga polyester pouch is extruded, printed, laminated, engraved (manufacture of the gravure cylinders), and converted by Nordenia USA. DuPont supplies the resin. The package won a Gold award for printing excellence.
"The original paperboard package not only used too much packaging material, but it didn't have the graphic presence of the current bag," says Kevin Diegel, associate art director for the Costco Wholesale packaging department. "The Kirkland Signature Ravioli was originally packed in two unprinted pouches that were then packed inside a printed paperboard carton."
A press-to-close zipper allows consumers to reclose the package for multiple uses. The structure also provides good cold temperature strength. Package printing enhances the detail and graphic quality of the entire design, and ensures a quality reproduction on future runs. According to the converter, the printing process also allowed this design to be printed using six colors instead of eight. Nordenia makes the pouches and sends them off to a contract packager for filling.
"The colors of the previous paperboard carton were dark and moody, while the new bag is brighter and more sophisticated in its photostyling," Diegel says. "The switch to a life-style photo and the use of blue as opposed to the more traditional red or green gave the Kirkland Signature Ravioli a distinctive presence in the frozen pasta category."
Companies in this article