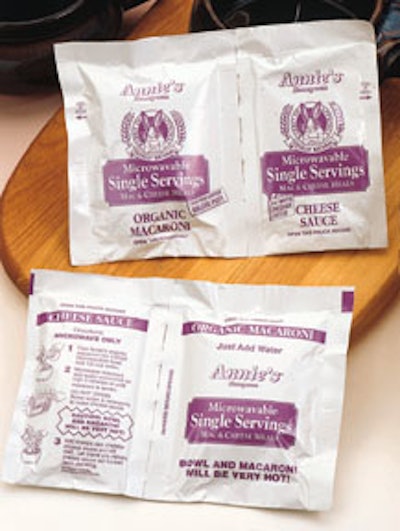 The pouches are attached, with a perforation allowing the consumer to separate the two.
The approximately 4.3-mil pouch material is supplied by Technipaq (Crystal Lake, IL). From the inside-out, the structure includes 15# DuPont Surlyn®/0.000315 foil/7.2# low-density polyethylene/26# clay-coated paper printed in one color flexographically with a glossy overlacquer.
Technipaq ships rollstock to contract packager Priority Food Processing (Lake Zurich, IL). Priority uses modified horizontal form/fill/seal machinery that perforates the formed material. A scale system is used to dump the cheese powder into one pouch before the machine indexes to accept the pasta.
According to Paul Nardone, president of Wakefield, MA-based Annie's, five of the dual pouches are packed in an outer 20-pt recycled newsback carton (shown in inset) that's printed offset in six colors by Accord Carton (Chicago, IL). The CP then ships product to distribution facilities, as specified by Annie's.
To use the product, the consumer tears open the pouch of organic macaroni, pours it into a bowl with
1/2-cup of water, and microwaves it for about three minutes. Upon completion, the consumer adds in the cheese mix to create a 3/4-cup single serving. The five-pack carton sells for $3.59 nationally at natural food stores and in selected mainstream supermarkets.
"It's an entirely new product line," explains Nardone. "And it represents our first launch in the microwave category. The shelf life is more than a year," he continues, "but the way it's selling, it doesn't look like that's going to be an issue," he says with satisfaction.
Companies in this article