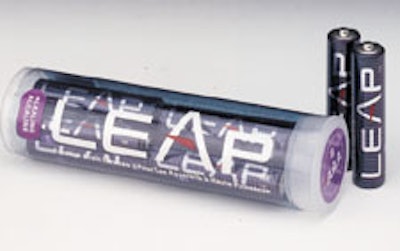 The most unique of the new wave of battery packaging comes from Leap Energy and Power Corp., Mississauga, Ontario, Canada. The package shape mimics that of the battery.
Shunning blisters, thermoforms or any SBS cardstock, Leap™ batteries are instead packaged in plastic tubes. The tubes are extruded by Tulox Plastics (Marion, IN), using Eastman Chemical's (Kingsport, TN) Tenite® cellulose propionate resin. The six-count, 1 ¼'' dia x 4 ¼''L tubes for AA batteries carry a suggested retail price of $5.40 and the 1'' dia x 4'' 8-pack for AAA batteries is $6.70.
The batteries were introduced in August 2000 in Canada, and in September in the U.S. Sacramento, CA-based Tower Records stores sell them from a custom point-of-purchase display. The distinctive rectangular display tower has circular cut-outs on its sides to accommodate the battery tubes.
The only common ground Leap has with other battery packaging is that it is reclosable, thanks to a friction-fit polyethylene closure injection-molded by Tulox. The tubes are full-wrap labeled with a clear pressure-sensitive polymeric substrate printed in seven colors by CCL Label (Rosemont, IL). A p-s sticker and tamper-evident shrink band complete the packaging.
Label copy states that the packaging is made from recyclable materials. A company press release states "Leap is the first company within the category to eliminate wasteful blister packaging and replace it with ecologically friendly, recyclable and reusable materials."
The package design was created by d/g* (New York, NY). The batteries are contract manufactured and packaged by Pure Energy (Richmond Hill , Ontario, Canada).
The company says the new format requires 40% less shelf space than comparable blister card packs, thus allowing retailers to maximize sales per square foot. "Our highly differentiated and targeted package is designed to appeal to modern consumers," says Leap president/CEO Brent Meikle.
The launch was preceded by favorable consumer tests, states Leap spokesperson Jane Connell. "They could see that our company was forward thinking and that our packaging was new and innovative," she relates.
See the main story that goes with this sidebar: Positively different battery packaging
Companies in this article