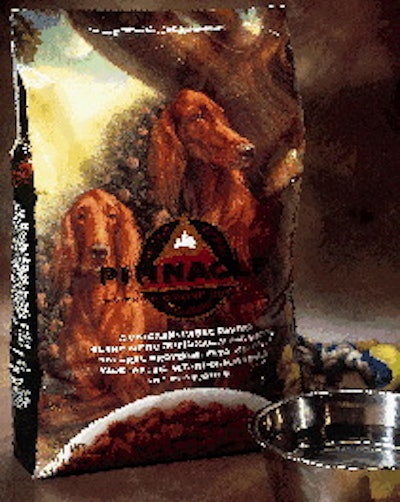 However, the company soon realized that it would need specialty packaging to protect all the high-quality ingredients and the natural preservatives (vitamin C and tocopherols) that made the product unique.
"Due to the quality ingredients we used, we selected a 'stay-fresh' package with a high-oxygen barrier to ensure product freshness to the consumer," says Scott Matthews, vice president of sales and marketing for Breeder's Choice. "We believe that the day this bag is opened is really the 'second' day of its life due to the film and its oxygen barrier characteristics."
The material for the bag is Fres-Pet(TM), a proprietary three-ply lamination employing an unidentified barrier to oxygen, light and flavor or aroma transfer. Fres-Pet is supplied by Fres-Co System USA (Telford, PA) in two forms for Breeder's Choice. The company currently receives the material in roll form for a 71/2-lb size that's produced on a new Model GL-18 form/fill/seal machine, also from Fres-Co. For a 30-lb size, Fres-Co fabricates the material into pre-made bags. These bags are filled and sealed on equipment from Slidell (Owatonna, MN) that the packager used before the new brand was created.
Top of the line
Pinnacle, says its maker, neither looks nor tastes like conventional feeds for dogs. "It's our top-line product, designed for consumers who want only the best for their pets," Matthews continues. "In the formulation, we've eliminated standard ingredients like corn, soy, wheat and rice, along with barley and sorghum because they can carry possible allergens." In their place, Pinnacle contains oats, potatoes with grapeseed oil and quinoa that help make the product unique.
This nutrient-rich formula not only justifies the price premium for Pinnacle. It also forces the manufacturer to protect the ingredients with what Fres-Co calls a "high-level barrier laminate." The 71/2-lb bag retails for $10.99 to $14.99; the 30-lb bag sells for $32.99 to $36.99. Matthews does indicate the company uses coupons and retailer allowances to help promote the product at retail. Pinnacle was rolled out to the market beginning last spring.
To help convey quality, Breeder's Choice worked with an unidentified Santa Barbara, CA-based company to develop the package graphics. The material is reverse-printed by Fres-Co in eight colors using costly gravure printing.
These are among the reasons that Pinnacle is promoted as a "specialty" dog food, primarily to independent retailers that can educate and recommend foods to their customers, adds Matthews. The company calculates the shelf life of these packages at between 18 months to two years, at least six to 12 months longer than an average multiwall paper sack that's common for high-volume dog foods. The material, says Fres-co, has an oxygen transmission rate of less than 0.04g/100 sq"/24 hrs.
Excellent reaction
Thus far, says Matthews, Pinnacle has generated a positive reaction from dealers and consumers, as well as from breeders and veterinarians.
A brochure carrying graphics similar to the package explains all of the nutritional details of the product, but it also describes the package. The brochure says that the 98.5% oxygen barrier packaging is critical to the product because it: "improves palatability, prolongs vitamin potency, protects against oxidation and locks out moisture and pests." It also recommends that the product be consumed within 90 days, once the stay-fresh bag has been opened.
The smaller bags are packed into corrugated cases and palletized for shipment to Breeder's Choice distributors. The 30-lb bags also are palletized and these loads are protected from damage through the use of slipsheets, corner posts and stretch film. Typically, the product is merchandised on a special rack with a header card or displayed near other specialty dog food products.
Although Pinnacle is currently an "all life stages" product, Matthews says the company now is considering formulations for puppies, less-active dogs and possibly one for felines.
Companies in this article