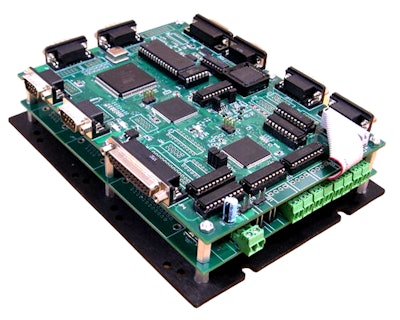 Available as 1, 2, 3, and 4 axes modules, units are ideal for NEMA 8 to NEMA 42 stepper motors. These compact 6.000 in. x 8.000 in. plug-and-play, integrated controllers incorporate high resolution micro-stepping drivers for precise positioning.
Other features include home and limit switches per axis, joystick interface, TTL/CMOS inputs and outputs, quadrature encoder feedback, USB and optional Ethernet interfaces permits each module to be customized for specific applications.
Optimal Engineering Systems' ICAD series is powered from a single power supply up to +48 VDC. The high voltage power supply allows for high speed operation.
Additional features of these ICAD Series modules include: Low power consumption, auto current reduction, high torque and high speed capabilities, serially or manually controllable, or host controlled. Modes of motion include: Point-to-point positioning, jogging, and coordinated motion.
Another option is to program the motion controller using an easy programing language and store the code in the flash memory for automatic operation. No compiler or assembler is required.
User friendly software that allows for easy setup is included. Using the software, an operator can move each axis by using the control panel or a joystick.

Companies in this article