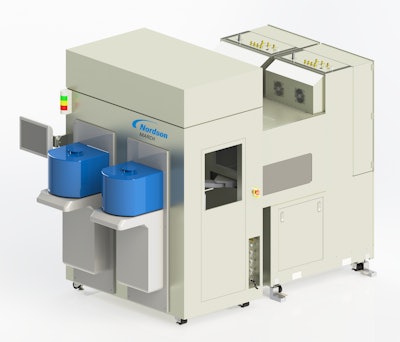 Based on Nordson MARCH's TRAK™ Series, the new series consists of the TrophoSPHERE™ and StratoSPHERE™ plasma treatment systems. The systems perform descum, ashing (photoresist/polymer stripping), dielectric etch, wafer bumping, organic contamination removal, and wafer destress. Both systems support automated handling and processing of round or square wafers and can process thin wafers with or without a carrier, depending upon the wafer thickness.
The SPHERE Series models are differentiated by the size of their chambers. TheTropoSPHERE system has the smallest chamber. It is designed for high-throughput processing of semiconductor wafers and other flat substrates in sizes ranging from 76 mm (3 in.) to 200 mm (8 in.) in diameter for wafers held in open cassettes. The StratoSPHERE plasma system handles semiconductor wafers up to 300 mm (12 in.) in diameter. Both series utilize a patented plasma chamber design that provides exceptional etch uniformity and process repeatability. The control architecture enables short plasma cycle times with very low overhead, ensuring that throughput is maximized and cost of ownership is minimized.
"Nordson MARCH's SPHERE Series is an easy way to eliminate problems caused by contaminants that result from the semiconductor manufacturing process," said Jonathan Doan, director of marketing, Nordson MARCH. "Our plasma treatment can be used for both wafer cleaning and a variety of etching, ashing, and descum steps along with contamination removal, surface roughening, increasing wettability, and enhancing bonding and adhesion strength.
Companies in this article
Videos from Nordson Corporation