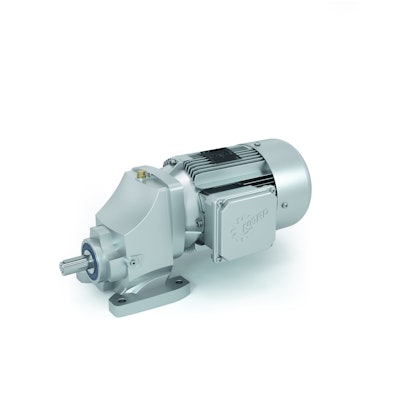 With durable UNICASE™ cast iron housing and optimized bearings, they can reliably handle large axial and radial forces. Low ratio/ high speed capabilities are not only ideal for traditional conveying applications, but also pumping and mixing applications.
Also on display will be:
LOGIDRIVE™ – Designed for vertical, horizontal and inclined conveyors, the LOGIDRIVE system features a modular two-stage helical bevel gear unit, IE4 motor and a decentralized variable frequency drive (VFD). All common field bus and industrial Ethernet interfaces are integrated into these drive units. The use of IE4 synchronous motors minimizes overall lifecycle costs. Efficient operation at partial load and low speeds make this the ideal solution for high-volume intralogistics systems.
NORDCON app and NORDAC® ACCESS BT – The NORDCON app and NORDAC ACCESS Bluetooth stick enable convenient dashboard-based visualization to aid in the diagnosis, parameterization and monitoring all NORD drive systems right from a mobile phone. The Bluetooth stick can be used directly with the frequency inverter and allows users to transfer parameters from one frequency inverter to another.
Companies in this article