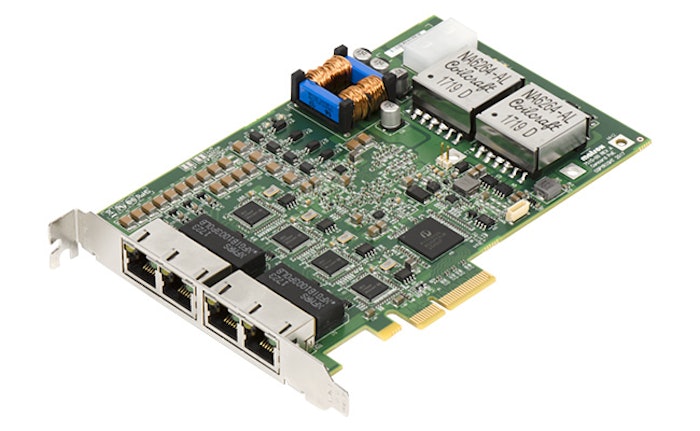 Matrox Concord PoE boards come pre-licensed with GigE Vision support in Matrox Imaging software, removing the need for an additional software feature license.
The single-cable-per-camera offer simplifies cabling between cameras and vision computer by eliminating the need for a separate power cable. An isolated PoE implementation also protects cameras, board, and host computer from damage due to electrical faults and stray current that could adversely impact camera detection.
Certified for use with GigE Vision systems, these multi-port GigE adaptors also facilitate deployment through an integrated license fingerprint for Matrox Imaging software. Supported by both the Matrox Imaging Library (MIL) software development kit (SDK) and the Matrox Design Assistantintegrated development environment (IDE) for Windows®, each software offers developers the benefits of different environments with the same underlying vision tools.
"The Matrox Concord PoE board leverages the fact that most GigE Vision cameras support PoE as a way of simplifying system cabling. The PoE implementation is isolated, which protects cameras, board, and vision system from potential electrical faults and is a must for industrial use," says Mathieu Larouche, product manager, Matrox Imaging. "The board also streamlines the deployment of our vision software by eliminating the need for an additional license dongle."
The Matrox Concord PoE will be available in Q2 2018.
Companies in this article