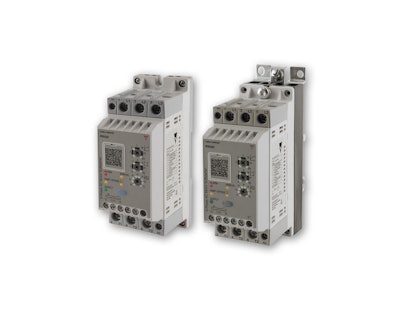 The self-learning algorithm adjusts the soft starter parameters to work with different applications and varying load conditions. It is active at every start, to ensure that the motor always starts with the optimal settings. New current balancing algorithm keeps the current unbalance to less than 15%.
The new 45 mm RSGD Series soft starter offers time and space-saving installation. It conforms to global standard UL508 and IEC/EN/60947-4-2. Therefore, it can be used worldwide for control of pumps, fans, and compressors in markets such as water treatment, agriculture, building automation, and HVAC.
The RSGD Series offers an option for Class 10 electronic overload, providing advanced motor protection and resulting in further space savings in the electrical panel. Phase sequence protection can be enabled and disabled easily through the integrated push button, thus simplifying installation in applications that require reversing. Torque controlled ramp-down results in much smoother deceleration of motors. All these features are offered in one of the most compact soft starters on the market.
Companies in this article