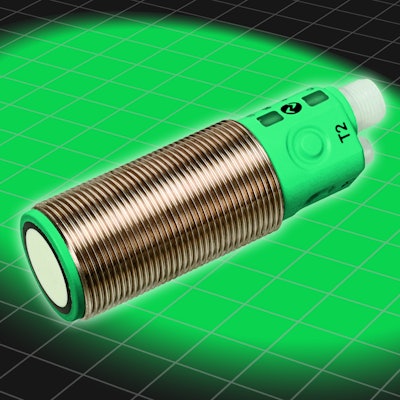 Parameters can be viewed and modified on-the-fly via an IO-Link controller, or via a PC. Using the pushbuttons, a user can configure Series IO ultrasonic sensors to use numerous modes, including pump-up/pump-down, rising/declining analog slope and beam width adjustments, among others. The pushbuttons also configure trip points, output function, output behavior, and even the shape of the sound cone.
High-visibility green and yellow LEDs verify power and target status, and also assist with pushbutton programming.
Series IO ultrasonic sensors have UL, CSA, and CCC approval, and feature a completely sealed, IP67-rated housing, making them suitable for use in outdoor application environments. Additional features include two programmable switch outputs, latching mode and window functions, synchronization options, and temperature compensation. They are available in switch point and analog versions, both available with 500 mm, or 2, 4 or 6 m sensing ranges. All units are 30 mm diameter by overall length of 93 mm.
For expanded parameter access and programming, Series IO sensors are also configurable through IO-Link and PactWare software.
Companies in this article