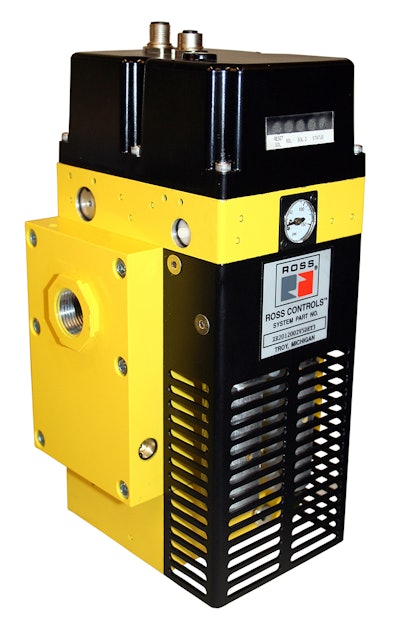 The valve can be adjusted to provide slower or faster buildup of system pressure, depending on the ideal setting for your application. This advanced design helps ensure safer start ups, reduces risk of machine damage and enhances uptime.
The valve includes ROSS' proven 3/2 normally closed DM2® design which provides dynamic monitoring and memory for CAT-4 systems such as air dump/release applications. Memory, monitoring and air control functions are integrated into two identical valve elements for convenience and enhanced safety. The M DM2® valve locks out upon detection of asynchronous valve element movement and requires overt solenoid action for reset. The valve rapidly exhausts downstream air pressure when de-energized, removing stored energy for safe access.
The M DM2® Series C valve with soft start is enhanced with a modular mounting design, allowing flexible air entry system assembly. This also streamlines inventory and procurement procedures because only one part number is needed, saving time and resources. The valve is also cost effective because its dirt-tolerant and wear-compensating poppet construction ensures long service life in harsh environments.
The M DM2® Series C double valve with soft start offers the following additional features (standard except where noted):
• PTFE back-up piston rings enhance durability and operate with or without inline lubrication.
• LED indicator that displays main solenoid operation, reset solenoid operation and status indicator condition.
• Status indicator with pressure switch containing both normally-open and normally-closed contacts for status feedback to the control system regarding lockout or ready-to-run conditions.
• High flow, clog-resistant silencer for reliable noise abatement.
• Optional transducer for monitoring downstream system pressure.

Companies in this article