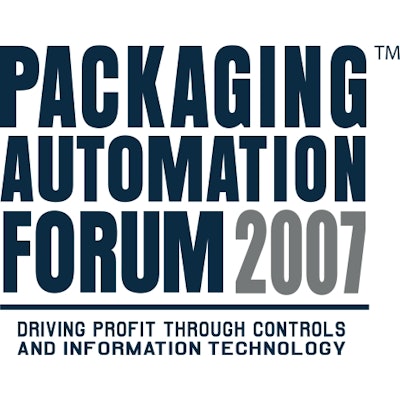 That comment comes from Jeff Russell, principal electrical engineer at Tropicana Products, to describe the data acquisition and analysis software now used in processing as well as packaging operations at the Fort Pierce, FL, plant where he is located.

Developed by Zarpac (www.zarpac.com) and called Performance Index, the software was originally installed on some of Tropicana's lines by the firm that had line integration responsibilities. But in the last year or two, says Russell, "We've spread the software out to everyone's desktop and now everybody's using it." Russell will elaborate on Tropicana's use of the Performance Index tool at the May 23 Packaging Automation Forum, sponsored by Packaging World and Automation World magazines.
What the Zarpac software does, in a nutshell, is provide detailed insight into machine states over the course of time. It shows, for example, exactly when, how often, and for how long a case packer is starved because the upstream case erector is blocked, says Russell. It also permits machine operators to record reasons behind machine conditions.
Operator input for proactive response

"As we made the software accessible on operator interfaces at a filler or a case erector or case packer, we began to see operators accessing the software and typing in comments about why a machine was down," says Russell. "These comments become part of a report that we use in our shift changeover meetings to discuss issues we've had throughout the day. With the information right there in front of us, we can assign maintenance crews to address things proactively instead of not knowing the root cause of a problem. It's the difference between reacting to breakdowns after they've happened and anticipating them in advance in the hope of avoiding them."

The presentation Russell will deliver at the Packaging Automation Forum is titled Using real-time downtime data collection to drive packaging line efficiency improvements. To view the complete program or to register for the Packaging Automation Forum, visit www.packworld.com/paf. As a reminder, this event was sold out last year.


Companies in this article