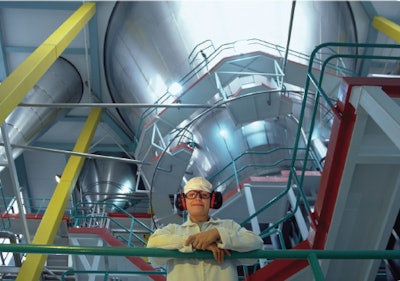 Fall is usually when food thoughts turn to pumpkins and candied apples, but this November might be the best time to think about whey protein and yogurt drinks. 
The dairy processing industry has transformed itself in the last 20 years, going from a somewhat binary focus—unload raw product, then ship final product out the door—to a much more diverse and detailed operation. The variety of processed dairy products, sub products, and packaging types has exploded. The opportunities for cost savings or cost recovery have grown. And the world market has changed.
For example, dairy processors used to dump their leftover whey and lactose in a field, or use it as animal feed. Now, everything that happens throughout the process has value. "Facilities are being constructed just to process these so-called byproducts," says Neal Vaoifi, industry business leader for the dairy division at Maverick Technologies. Vaoifi made his comments in a guest blog on the ISA Interchange website.
WPC and MPC have become important exports for U.S. processors, and without them, Vaoifi contends that "the United States would have slipped behind in the world dairy race."
Today, whey protein concentrate (WPC) and milk protein concentrate (MPC) are "more valuable than cheese and bottled milk," he says. "WPC—a high-quality, complete protein with all of the essential amino acids—dissolves instantly, making it an excellent product for protein drinks and baking. Similarly, MPC contains 40 to 90 percent milk protein and has a variety of uses."
Due in part to the popularity of these powdered products, last year Japan's dairy intake increased 29 percent and dairy intake doubled in China, Saudi Arabia and Mexico. Also, "all of Central America now needs our dairy products, says Vaoifi. "We can meet the growing global demand by increasing production of WPC, MPC and other innovative dairy products, but in order to do so, we need more tightly controlled automation systems."
Now is probably the time to upgrade old PLCs, replace drum timers and 10-position selector switches, and invest in technologies that will squeeze out 1 or 2 percent more final product. And November is offering two good places to kick the tires on a wide variety of helpful software and equipment, and hear what your peers doing.
The Food Processing Suppliers Association (FPSA) and the International Dairy Foods Association (IDFA) are co-locating Process Expo and the International Dairy Show in Chicago next week. The two shows take place November 3-6, 2013, bringing more than 800 exhibitors and 15,000 industry professionals to the North and South Halls of McCormick Place. Attendees get unlimited access to both show floors and extensive educational programs.
Soon after that, Rockwell Automation holds its 2013 Automation Fair in Houston, Texas, November 13-14. That trade show and conference showcases a vast array of automation hardware, software and services from Rockwell and its partners for multiple industries, including consumer packaged goods, food, beverage and brewing.
Dairy producers curious about advanced controls software might want to ask about Rockwell Automation's Dairy Dryer model predictive control (MPC) software, which helps control and optimize the drying process during the production of powdered dairy products. It works with single and multi-stage spray drying processes as well as flash dryers and processes with fluidized beds to control average moisture to a desired target while reducing overall moisture variability. By reducing moisture variability, the average moisture target can be increased without compromising product quality. The increase in moisture target can also produce higher yields from the same milk solids, increase dryer capacity and reduce product re-work and energy usage per ton of finished product.
If you attend either show, let me know what you find that grabs your interest and seems likely to earn your company's investment. I'd love to report on how the dairy industry is participating in the manufacturing renaissance we've been hearing about.
Companies in this article