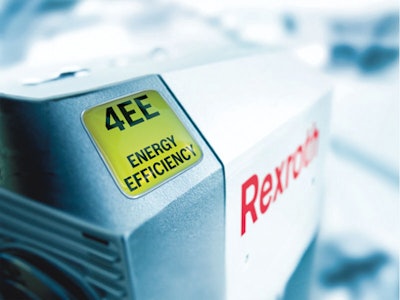 Once upon a time economics weren't the overriding factor in pharmaceutical packaging decisions. "But now we have to justify every cent we spend with capital projects," said Ivan Roman, project engineer, Johnson & Johnson Ortho, Puerto Rico.
"With that in mind, we are looking for good prices, and the best technology in packaging equipment controls and electronics. The main reason for that is because controls and electronics become obsolete so quickly," Roman said by phone from J&J's plant in Manati, PR, during a May 27 presentation at the Healthcare Packaging Conference & Workshops. The presentation, "Sustainable Automation for Healthcare Packaging," also included the following speakers at the event, held in Princeton, NJ:
• Kjell Lyngstad, global account manager, Bosch Rexroth Corp., a global supplier of industrial automation technology with focus core application areas like packaging machinery for food, beverage, personal/home care, and pharmaceutical markets.
• Randy Spahr, executive vice president, Z Automation Co., maker of cartoning, sleeving, tray forming, case packing, and robotic end-of-line equipment for food, pharmaceutical, personal care, and other markets.
• Tom Brooker, senior product manager, KHS USA, Inc., international manufacturer of filling and packaging systems for beverage, food, and nonfood industries.

J&J Ortho's 306,000-sq-ft Manati facility has pharmaceutical and biologics operations. The pharmaceutical section produces women's healthcare products such as oral contraceptives, tablets, patches, and semi-solid products. That's done on nine packaging lines that range from blisters to cream filling equipment. In the presentation, Roman identified several J&J Ortho objectives in working with packaging controls, automation, and equipment vendors. Among them were the following:
• J&J's input has to be incorporated into the packaging controls and equipment, as opposed to "one-size-fits-all" solutions from suppliers.
• Low pricing up front that increases as orders change later on is not acceptable.
• Equipment must be delivered on time to allow J&J to meet production schedules.
• Suppliers must provide installation support and operator training, particularly during start up. "For instance," said Roman, "in the case of our cartoners, we have a modem, and [the supplier] has to be able to connect remotely and help us whenever we have an issue with troubleshooting, which isn't often, but is needed."
Roman praised KHS and Bosch Rexroth, noting that J&J Ortho's modernization projects with KHS started in 2008, upgrading an older cartoner's controls and transfer system, and redesigning another cartoner.
"We upgraded a 1995 cartoner, changing all the electronics, the engine, the motors on the drives, and the amplifiers," recalled Roman. "That was a total of 15 servos. Then we also wanted to reduce the footprint of the machine. There were way too many transfers on the machine."
The footprint was addressed by focusing on the area where the pouches entered the machine. "We decided to simplify that and the feeding of literature into the carton," he explained. "We had eight servos in the collation area where we collected different components for the carton. We reduced the footprint on the collection area significantly and reduced the amount of transfers." Those actions, said Roman, helped improve Overall Equipment Effectiveness (OEE).
"We are now in the 40s on the OEE," he noted. That said, he cautioned the audience that there is a learning curve for employees when changes are made to transfers and controls, as was the case with this machine, which also was enhanced with a new Human-Machine Interface. But the increased OEE made that worthwhile, even after factoring in changeovers and integration with other equipment on the line.
"Another thing that helped us with the OEE is that the servos we had were 15 years old, so not a lot of people knew much about them," added Roman. "Every time we had to troubleshoot them, it would take a long time. We haven't had a single issue with our new servos."
Roman also discussed another project completed between December 2009 and January 2010. "This was on a 2001 cartoner used for a product that was going to be phased out to another line. We wanted the cartoner to be able to run a product previously handled manually. We changed the PC, the PLC, and the servos," he noted. Again, J&J sought new controls and electronics "because they can change so quickly that it's nearly impossible to get replacements," Roman said. "So we always want the latest technology available. And we added product transfers to the cartoner." Machine guarding was also changed to make the cartoner more accessible.
As a result of the changes made to this cartoner, J&J Ortho improved the economics of the line. "Before, the process was manual," Roman reiterated. "And we improved OEE on the line because we had no downtime, and we were able to increase the speed of the overwrapper that feeds the cartoner."
Summarizing J&J Ortho's packaging equipment, controls, and automation upgrades, Roman said, "We estimate a five-year net of equipment depreciation [NPV] of $1.8 million in savings. We have been very successful working with KHS equipment and with the Bosch Rexroth technology."
Total Cost of Ownership
Bosch Rexroth's Lyngstad explained how sustainability factors into the relationship between the suppliers and J&J Ortho. First, he provided a "big-picture" perspective on the topic. "The sweet spot of sustainability," he said, "is where you have an impact on the environment, on the economy, and on society. Sustainability is a big driver in the industry, with Walmart one of the major companies pushing this not only to its consumer product suppliers, but also onto the machine builders like KHS and Z Automation, and even down to us as a technology supplier."
Implementing sustainability into a packaging application requires a company to, in addition to tracking OEE, determine its Total Cost of Ownership, or TCO. Lyngstad explained, "There has always been a focus on reducing acquisition costs. We are encouraging the industry to look broader, to look at the total life-cycle cost of a machine. So, look at maintenance costs and operational costs as well as the machine purchasing cost. In many cases, we can reduce TCO by 30 percent or more with some very simple measures."
Lyngstad told the Healthcare Packaging Conference & Workshops audience that establishing metrics could help packagers track efficiencies, improve productivity, and reduce cost.
He said that automation's impact on sustainability was demonstrated in a 2007 European Union study that showed that out of all the energy consumed in the EU, 37% was for industrial use. And of that, 69% was from drives and motors. "So automation—things that move on the plant floor—represent an area where a majority of the energy is consumed," Lyngstad noted, emphasizing that reducing energy costs will become a greater concern for manufacturers.
"Ideally you design new equipment to be as energy efficient as possible, but you can also upgrade and modernize equipment to increase efficiencies," he pointed out.
"Selecting the right automation level for new capital investment projects is critical to optimize TCO, especially when you go to emerging markets. Companies want to take a more flexible approach to turnkey packaging lines by using modular and reconfigurable workstations, conveyors, automation cells, and so on."
Lyngstad said Bosch Rexroth sees a trend toward functional integration of modules or turnkey automation systems rather than the purchase of separate components. He recommended that packagers remain flexible, so they can reconfigure systems if they change the package dimensions or other variables.
Going back to the issue of operational costs, he said that energy-efficient components, such as conveyors that reduce friction around curves, can reduce energy consumption. "Another example is in electric servo systems, where we can optimize buffer energy and share it between the drives throughout the machine cycle, and for some applications even be able to re-generate energy back on the power line," said Lyngstad.
He also recommended manufacturers use open standards, "such as Ethernet-based communication protocols like SERCOS III, and pneumatic valves and actuators with ISO interchangeability standard, rather than being locked into the proprietary standards of a single supplier."
When focusing on improving OEE, increasing throughput necessitates the use of intelligent systems that include diagnostics that can predict failures so you can avoid them. "For example," Lyngstad said, "we offer electric servo drives with an integrated 'productivity agent,' where you can use the drive as a sensor, and monitor the equipment performance throughout the machine duty cycle against the ideal state; for example sensing wear on a ballscrew connected to the servo motor. If the motor needs more energy to move the ballscrew, then you can see that you are outside of your ideal machine state. Then you can get an error on the machine indicating something is wrong and needs to be looked at. Maybe it needs lubrication, or maybe it needs to be replaced. You can use a similar method for pneumatics as well, by tracking the air consumption and comparing it to the 'ideal state' throughout the machine duty cycle."
Following such practices, he said, can help reduce bottlenecks, buffer products, and operate with safety. "There is built-in intelligence in your systems," he said. "You can have quicker response to potential failures before the line goes down."
Equipment maker perspectives
From KHS's standpoint, Brooker noted that the company had previously worked with J&J Ortho in Puerto Rico: "Over the last couple of years, there were projects that Ivan brought to us seeking to improve OEE and to reduce TCO. He identified the older machinery for which J&J had issues in getting some parts, such as older electrical components. Plus, there were some mechanical functionality limitations on the machines. We talked through the various solutions, which worked into our philosophy of developing sustainable automation that pertains to OEE and TCO. The goal is to reduce, optimize, and innovate. We want to reduce the components and the complexity of the machinery, optimize performance, and reduce the footprint. That's especially key in the pharmaceutical industry. We don't want an oversized machine or enclosure, because space is valuable. In short, we wanted to innovate and raise the bar, to implement new technology related to both design and process."
He said KHS achieved those goals by exploring the functional aspects of its machinery. "We noticed that there were several areas on the machines that could be simplified," Brooker continued. "We reduced the components and optimized the footprint, reducing the size of the machine. Ivan and his group worked to help improve machine accessibility. We worked with Bosch Rexroth to optimize the use of the controls cabinet and utilize innovative new components. Originally there were 15 servos on these machines, all with individual drives. In fact, there were so many servos that we actually had to have two servo controllers. It was old-school technology, with multiple communication platforms, which did not make things easy. If a sensor failed, tracing it back and fixing it took awhile, lowering machine efficiency and productivity."
As the suppliers worked together, a new controls cabinet was developed with a power supply that connects to each decentralized integrated servo drive/motor in a less-complex and more flexible system. "The net result of our combined efforts was that the TCO was reduced, as were changeover times and machine footprint. It created energy savings for J&J as they worked with us as a machine supplier, while we worked with the automation supplier Bosch Rexroth," said Brooker. "We all together came up with a solution that dramatically improved results at J&J Ortho in Manati."
In addition to the application story covered above, Randy Spahr from Z Automation spoke about the company's experience with sustainability. Spahr said that they consulted their customer base, which identified what they were looking for in new development and new machinery design. "Our team came up with a modular design that was easy for expansion and would lower the cost of equipment," he said. "We wanted to 'lean out' the cost of the manufacturing cycle of our machines and reduce carbon footprint with energy savings. So those were our goals as we set out to use new modular IndraDrive Mi integrated servo drives/motors from Bosch Rexroth." Customer input went into the launch in 2008 of case packers and cartoners that incorporated a combination of cost and the assembly time to put the system together.
Companies in this article