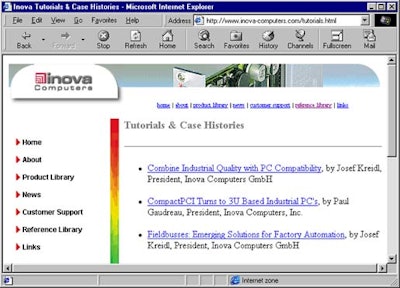 The Web site of Total Control Products' Industrial Platform Div. (www.tcp-industrialplatform.com) focuses on that firm's efforts to promote Windows™ CE-based machine control and HMI solutions. One area that's especially valuable is the frequently asked questions page under the tech support section of the site, which focuses on the topic of Windows CE for machine control.
A standout on Electro Cam Corp.'s site (www.electrocam.com) is a section on applications, most of which are packaging-specific. An entire library of application notes and technical papers is available for download.
Baldor Electric Co.'s site (www.baldor.com) has long been known for its thoroughness. It now has information on more than 5ꯠ industrial electric motors and speed controls. The site contains performance data, connection diagrams, CAD drawings, 3D views, product installation and operation manuals, and warranty information. Links to energy-saving and gear-selection software are also on the site.
The site of Rockwell Automation's Dodge/Reliance Div. (www.dodge-pt. com) features detailed specs on the company's line of bearings, power train components and gears. Available for download are engineering catalogs, brochures and data sheets in Adobe PDF format.
FlowBiz.com (www.flowbiz.com) is a multimanufacturer site dedicated to providing the most current information on valves, actuators and controls. Though a bit process-control-centric, the site has a strong educational focus, with the "Tech Central" section consisting of detailed explanations on topics such as "Valve selection basics," "A review of electric actuator accessories," and "Pressure and pressure drop." A troubleshooting section offers help for technicians involved in actuation and field service.
The "reference library" section of embedded computer maker Inova Computers (www.inova-computers.com) has several white papers on embedded computing with such topics as "Fieldbusses: Emerging solutions for factory automation" and "Marriage of PLCs and Industrial PCs: Trends in machine control."
The site of Pacific Scientific at www.pacsci.com, has a variety of information for engineers and motion control system specifiers. Standouts include navigation menus for quick access to different parts of the site. The site is intended to simplify locating products, which are grouped by technology (servo, stepper, adjustable speed, etc.). Technical terms within the site are linked to a glossary section.
Another motion control supplier, Industrial Indexing Systems, features information about its products at www.iis-servo.com. Detailed specs are available, including speed/torque curves and mechanical drawings with sizing information. The site also includes typical applications.
In the e-commerce department, Busware Direct™ has an online store at store. buswaredirect.com. Available for sale are a host of data logging devices and networking components for protocols such as DeviceNet, Ethernet, Profibus, LonWorks and Modbus.
One controls supplier that's put together a very effective e-commerce site is Parker Hannifin's Compumotor Div. The site, at buy.compumotor.com, allows end-users or machinery builders to purchase any of Compumotor's motors, drives and motion controllers with a major credit card.
What's unique about the site is its integration into Compumotor's just-in-time manufacturing process. After a site visitor indicates a particular product and quantity desired, the site returns the real-time ship date based on current manufacturing capacity. In a press release, the company states that on average, most products will ship in fewer than five working days from the time the order is placed on the site.
The other unique aspect of this site is how it ties into Compumotor's distributor network. The site offers the best of both worlds—the ability for customers to buy direct from the manufacturer while receiving local applications support. When customers buy from the site, they can choose a distributor to be assigned to their account. Compumotor points out that the distrbutors listed on the site are specifically trained in applications engineering support for its products.
The site also simplifies the selection process with a product selection wizard that helps pinpoint the appropriate motion control product based on a question-and-answer format. Experienced buyers can also quickly key in a part number.
Unlike packaging machinery, controls are compact, easily shipped products that lend themselves easily to e-commerce applications. We expect to see more such sites in the future.
Companies in this article