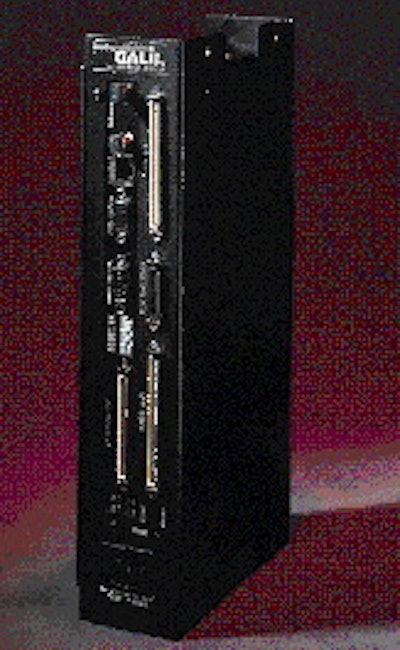 OMAC, which stands for Open Modular Architecture Controls (see www.arcweb.com/omac), is a controls users group initiated five years ago by the Big Three automakers. It includes machinery builders and controls suppliers. Faced with a lack of standards for machinery used to build cars, the group set out to hammer out standards. It has since expanded from its auto industry roots to address the needs of users in all industries, and now counts food and pharmaceutical companies such as Kraft, Pharmacia & Upjohn, and Procter & Gamble as members.
Why motion?
Packaging controls, specifically motion controls, are becoming increasingly sophisticated. Controls engineers at packagers or packaging machinery builders can expend valuable engineering and training time trying to wring out maximum performance. And typically time must be invested learning proprietary controls from different suppliers. Furthermore, controls suppliers continually update their wares. As the technology gets more complicated, the need for standardization escalates from a convenience to a necessity.
Hence the call for a motion control standard, according to Dennis Daniels of the ARC Advisory Group (Dedham, MA), a controls research company. As director of sales and marketing, Daniels voluntarily facilitates the OMAC Users Group.
A standard for motion control could touch on any or all of the following areas: the hardware, the programming software tools, the motion programming language itself or the network protocol for linking drives to motion controllers.
At least a few motion controls suppliers are open to the idea of starting a dialogue on standards. Packaging World is willing to sponsor an initial informal meeting, perhaps at the upcoming Pack Expo Las Vegas show, Oct. 18 to 20. What's needed is to have packaging end-users and machinery builders step forward.
Fear and uncertainty
While standardization can reap benefits for end-users and machinery builders, some machinery builders and controls suppliers may fear standards. Why? By definition, a standard is the opposite of proprietary. Thus, if a supplier is forced to keep part of its technology "standard," how can it differentiate itself from the competition? This is a valid concern. However, closer examination reveals that such fears aren't warranted. It is possible for a packaging machine, or the motion controller inside it, to conform to a standard while differentiating itself from the competition.
For example, if there were a common programming language, each motion control supplier would be free to choose whatever hardware it thinks gives their control an advantage. Or controllers could be differentiated with the ability to have different communications ports for different networking protocols. Another standardization option could be to focus on a common method for programming a motion controller, rather than down to the specific level of a common language, which might be harder for all parties to agree upon. If a method is chosen, each controller supplier could use its own language, as long as it conforms to the standard method.
Still skeptical? Take a quick look at the PC industry for a valuable history lesson.
While I'm no fan Microsoft's alleged anti-competitive business practices, I am very thankful, as a personal-computer user, for its standard operating system. It has virtually guaranteed PC interoperability, significantly driven down the cost of hardware and greatly increased the number of vendors that support the PC platform. Perhaps most significantly, it has resulted in much better software. (It should be noted that Microsoft's is actually a "de facto" standard, reaching this status through widespread commercial adoption rather than central planning by a standards committee.)
Few remember what it was like to be a personal-computer user in the late '70s and early '80s before Microsoft's ascendance. Want to share your data from an Apple II with a friend that owned a CP/M system? Sorry. His PC physically will not read your disk, make sense of the data or even run the same word processing program. As for price, I'm too embarrassed to tell you how often I paid $2귔 for a computer less powerful than my $150 Palm organizer. And so on.
Standardization of the PC paved the way for the PC market's exponential growth, reaping many times the profits--in Microsoft's case, orders of magnitude higher--than would be possible in an otherwise divided marketplace where all PCs worked differently.
Yes, machinery builders and motion control suppliers will have to move away from proprietary motion solutions that exist today. But that doesn't mean everyone's motion control has to have the same vanilla flavor. If that were true, how could Dell, Gateway, and legions of other PC makers continue to thrive?
I'm not saying the packaging machinery market will increase if controls become standardized. But as more and more packaging end-users adopt the standard, the machinery builders and motion controller suppliers whose products conform will surely enjoy the momentum in sales generated by end-users that will prefer such products.
Also, standardization of motion controls may allow machine builders to build equipment products more quickly. It could also allow them to create better machines, potentially stimulating end-user demand for such equipment.
Short-term pain for long-term gain.
For suppliers who remain unconvinced, I offer an even better reason to begin a dialogue over a standard: The customer wants it. To paraphrase a famous saying, I'll bet few packaging end-users would say on their deathbed, "I wish we had more proprietary controls around here."
Not a waste of time
Ultimately, even if a standard isn't reached, the time invested won't be wasted.
"Coming up with a standard wouldn't be a bad idea, but typically they take so long to create they're obsolete," says Keith Campbell, director, automation & integration for Hershey Foods, Hershey, PA. "Let's at least get some dialogue going among the parties. If we don't get the one standard, we can try to limit us from having 15." Hershey has long been a proponent of standards (see PW, June '98, p. 60, or packworld.com/go/hershey), wisely reaping the benefits of reduced costs and leveraged training.
But this isn't about Hershey or OMAC or Microsoft. It's about you and your company. Technology will continue to advance, with or without the influence of packaging end-users. If a discussion starts, you will help shape the technology to fit your needs rather than shaping your needs to fit the technology.
Packagers, machinery builders and motion control suppliers interested in participating in an informal meeting about motion control standardization at the upcoming Pack Expo Las Vegas show can contact me at newcorn@packworld.com.
Companies in this article