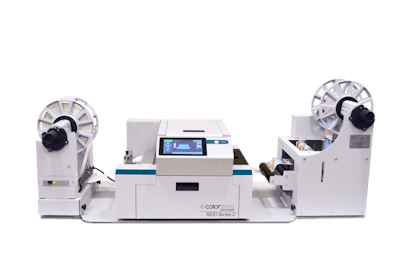 The 1800 Series C can run in multiple modes, including: print-to-cut, fanfold, and roll-to-roll, when used with optional unwind and rewind attachments. The 1800 Series C prints in full color (CMYKK) using a single Memjet water-based dye printhead and ink set.
The press features a flat, unobstructed printing path and redesigned printhead maintenance station. These press enhancements eliminate the need to break the web to clean the printhead during runs, increasing run lengths and improving print quality.
"Colordyne's newest system provides additional features that customers have been looking for in our entry-level benchtop solutions," said Taylor Buckthorpe, director of sales at Colordyne Technologies. "This includes an on-press job library that allows brands to better manage their label inventory on-demand, eliminating the need to manage a stock of pre-printed labels and reducing waste from unused label inventory."
The job library can be accessed through the 1800 Series C's on-press touch screen user interface. The touch screen improves the user experience by providing quicker access to frequently used printer functions, such as: printhead maintenance, job setup, media settings and more. Additionally, the user interface was designed to be easy to use, so operators of any skill level can run and maintain the printer.
"Companies are looking for a solution to affordably print smaller label quantities in a just-in-time business model," said Buckthorpe. "The 1800 Series C gives brand owners and private label manufacturers the opportunity to bring high-quality label printing in-house. These companies are increasing their productivity, expanding marketing capabilities and improving customer satisfaction."
Companies in this article