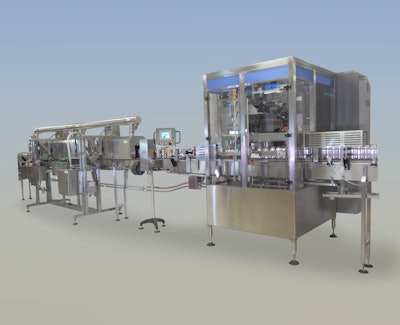 Fully stainless-steel versions are available for wet and washdown environments.
R Series can labelers are mandrel-style machines that use PDC's proprietary blade technology – a rugged and longer-lived alternative to the fragile "spinning knives" that are standard in many other shrink sleeving systems.
A great benefit of shrink sleeving is the ability to design highly attractive, graphic labels. Shrink sleeve labels are printed using multiple printing technologies on flexible shrink film, then formed into tubes. They come to the plant either in roll form for machine application or pre-cut for hand application. Once heated through a shrink tunnel, the film shrinks in size and conforms tightly to the shape of the can, producing an eye-catching product.
Important to beer breweries, PDC offers optional culinary grade steam filtration, which purifies the steam used in the shrinking process. A proprietary Heated Shroud shields the empty can opening as they pass through the steam tunnel preventing condensate drip and assuring cleanliness. An optional integrated zero-downtime label accumulator optimizes productivity by allowing roll changes at production speed – no lost production.
Like all PDC packaging systems, the R-300 is made in the USA using high quality, off-the-shelf components, assuring that the cost of ownership remains low throughout the system's long life. Systems incorporate field-proven controls technology and can be UL certified.
For craft and micro-breweries considering shrink sleeving their product, PDC can run your product at its Development Lab, one of the industry's foremost facilities for prototyping and package development. Our technicians will videotape your product and send you the resulting samples.
Companies in this article