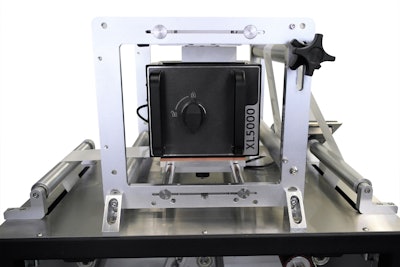 The Allen XL5000 provides quality performance on vf/f/s and hf/f/s packaging lines on a wide variety of different packaging substrates including bags, pillow packs, cartons, blister packs, sachets and envelope packs.
A commitment to making printing easy defines the Allen XL5000 with a host of advanced features not often found on an entry-level system.
Easy Installation
The Allen XL5000 features a small, compact sizefor maximum compatibility with popular frame sizes. The system is designed to be a drop-in-place printer, allowing most customers to save money by using existing frames and bracket systems – regardless of what type of TTO system they had previously.
Set up is further simplified by the inclusion of an a:touchlite controller with integrated a:controllite software. Also offered is a:design software at no additional cost, the a:design software provides maximum print message capabilities including barcodes, text, graphics, real-time, and dynamic date codingand can facilitate the design of up to 95% of message design formats. For very complex messages, an enhanced version of a:design, known as a:design plus, is available providing customers a wide range of database connectivity capabilities.
Simplified Maintenance
The Allen XL5000 features a robust, industrial build and thoughtful capabilities designed to minimize maintenance requirements and simplify service when needed.
Maintenance is minimized by features such as the rugged, industrial-grade stainless steel a:touchlite controller and best-in-class Kyocera printheads. Extended uptime between ribbon changes is made possible by the system´s 900m ribbon capacity.
The simplified serviceability design of the Allen XL5000 provides easy access to common wear parts for hassle free service touch points that don't require the customer to take apart the printer when they need to service the machine. Simple ribbon webbing design allows for quick and easy ribbon changeovers when required. Efficient ribbon use is supported by ribbon out and ribbon break sensing capabilities and a ribbon saving mode that can eliminate up to 50% of ribbon waste depending on the application.
Maintenance is further simplified by an industry-leading two-year warranty and comprehensive preventive maintenance offered at a flat rate. Flexible service programs were designed to match the customer skill level requirements and range from "do it yourself" to "all inclusive".
Flexible Print Options
The Allen XL5000 was carefully designed to ensure a simplified and flexible user experience.
The system allows users to easily switch between intermittent and continuous print modes with a simple conversion kit.
Customers can pair the Allen XL5000 with both a PC and a controller for printer setting adjustments. Print messages can be transferred from the PC to the printer and users can conduct on-the-floor viewing and selecting.
The a:touchlite controller on the Allen XL5000 comes with flexible security settings levels with password protection for operators, managers, and maintenance level users. Track and record print countsare available for production throughput monitoring
The Unicode compliant system supports multiple languages including English, Spanish, German, French, Italian and Portuguese.
Superior Performance
The Allen XL5000 combines ease of use with superior performance.
The quick start design powers up the controller 30% faster than competing systems. Quality high-speed performance is supported by Diagraph´s thermal transfer ribbons which are specifically developed to produce quality images at high speeds. Diagraph experts can match wax and resin formulas to the composition of a wide variety of materials to produce print images with high scratch-resistance and durability at high speeds.
A wide variety of ribbon colors and finishes are available for food grade, water soluble and UV applications. The Allen XL5000 provides a print area of 53 x 80mm in intermittent mode and 53 x 300mm in continuous print mode.
Companies in this article
Videos from Diagraph, An ITW Company