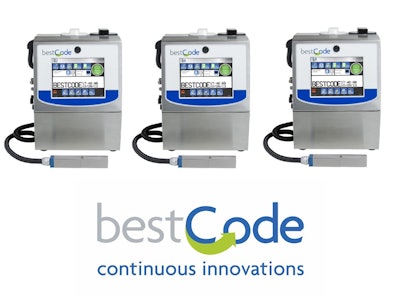 The BestCode, ARMIDA® Distributor Partnership re-enters ARMIDA® into Mexican marking and coding sector. Historically, ARMIDA® was the number one, highest volume distributor of marking and coding solutions in Mexico.
The BestCode Series 8 industrial marking and coding systems print best by, lot code, sell by, expiration codes and other identifying marks and codes on industrial and consumer goods to ensure product traceability. The systems print high speed, non-contact, instantly dry marks and codes on a wide range of substrates, including plastic, glass, paper and more.
"BestCode products are successfully promoted and marketed in over 60 world markets, partnering with ARMIDA® in Mexico further strengthens BestCode's North American position", said Richard Fox, BestCode's President.
"We are very excited to offer BestCode by ARMIDA® – a complete range of marking and coding solutions, enabling ARMIDA® to once again offer industrial printing solutions with our unique customer minded, customer service philosophy", said "Javier Armida", Armida's President.
Key advantages, BestCode Series 8 Systems Minimize User Interaction, limiting the hands-on time for typical coding system operation, extending the operation time between human interactions. Systems are the most efficient CIJ printers available, lowering overall coding costs.
Series 8 Key Features
Simplified, Extended Operation and Lower Cost of Ownership. Series 8 systems are designed to extend operation time between human interactions. Routine operator functions are made less often.
Industrial, Designed to the Extremes. Series 8 systems are designed for industrial applications, engineered to the operating specification edges. Systems operate in wet/dry/dusty and hot/cold applications.
Using high speed processing and CIJ specific electronic hardware, BestCode's TruPoint™ Technology provides the best CIJ print quality. TruPoint™ dynamically adjusts millions of drop patterns on the fly.
BestCode's EcoTec™ Fluid Management System reduces solvent consumption, lowering overall cost of ownership while extending the time between solvent additions and filter replacements.
Series 8 Printheads Start Clean Every Time. Series 8 printheads are industrial stainless steel, Built-to-last for the harshest printing applications. Printheads are designed for a clean, pin-pointed start every time.
BestCode products are backed by CodeProtect™, the industry's best coding system coverage.
Companies in this article