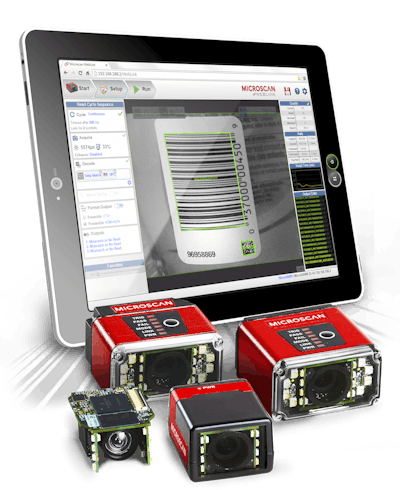 Microscan's MicroHawk barcode readers are designed for power on a very small scale to meet precise requirements for form, fit, and function throughout the life of OEM machines. According to the vendor, these are the world's smallest barcode readers for installation in OEM equipment and embedded applications.
MicroHawk barcode readers are built around the smallest barcode imaging engine in its class with configuration options for speed, sensor, density, decoder, and lighting. This configuration agility enables efficiency in both price and footprint, eliminating the need for costly, overly featured devices or peripheral equipment for more limited devices.
Precise features needed for a particular OEM barcode reading application are packaged into one of three ultra-compact form factors (MicroHawk ID-20, ID-30, or ID-40 reader) with the ideal dimensions, connectivity, and industrial rating to meet integration requirements. Corner-exit cabling offers the tightest fit in space-constrained installation environments, while advanced optics enable devices to read codes and inspect elements at variable distances and orientations, providing freedom in device mounting.
The MicroHawk ID-20 is a feature-rich barcode imager at less than 40 mm sq and weighing less than 27 g. From power to setup, the ID-20 takes less than one minute to begin decoding. Similarly, the MicroHawk ID-30 offers ease of use and flexibility, featuring an IP54-rated aluminum enclosure, optional add-on integrated LED lighting, and RS-232 and USB connectivity options in a single corner-exit cable. The MicroHawk ID-40 is the smallest industrial Ethernet barcode imager available, according to the vendor. At less than 45-mm sq, the ID-40 packs hundreds of configuration options within a tiny IP65/67-rated enclosure. ID-40 brings industrial-speed communication to the most limited spaces, with a design that is rugged enough to withstand dusty, harsh, washdown, or other unpredictable conditions. All readers include sensor options from WVGA to SXGA to 5MP QSXGA, standard or high-density, high-speed options up to 60 frames/sec, decoder options from 1D barcode to 2D direct part mark decoding, and programmable LEDs.
Once installed, MicroHawk barcode readers are remotely adjustable using the new browser-based WebLink user interface to change focus, barcode type, and expected application type, optimize speed, program input and output, and save barcode reader settings locally without physical access to the device. This capability future-proofs OEM machines with the scalability to meet new challenges and eliminates theneed for mounting adjustments or redesigns of turnkey equipment as requirements change.
Companies in this article