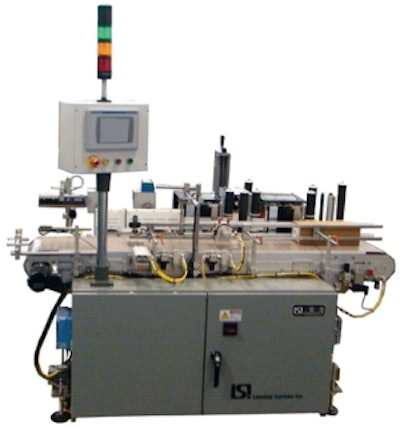 At the heart of the system is a Model 22.84 Labeling Head designed with two Zebra 110Pax4 printers and a 084 two panel dual air cylinder corner tamp applicator to label the side and front panels of filled and sealed cases. One Zebra printer is loaded with a black ribbon, while the other uses a red ribbon.

This is a direct response to meet the GHS – or Globally Harmonized System of Classification and Labeling of Chemicals. GHS is a worldwide initiative to promote standard criteria for classifying chemicals according to their health, physical and environmental hazards. By use of two color pictograms and hazard statements GHS is meant to communicate hazard information on product labels and safety data sheets in a logical and comprehensive way.

The track and trace system offered by LSI labels at a rate of 10 products per minute and includes an Infeed Metering System to create the proper spacing of the cases and a Barcode Scanner to verify the printed barcode. The system will stop for label inspection failure.
Companies in this article