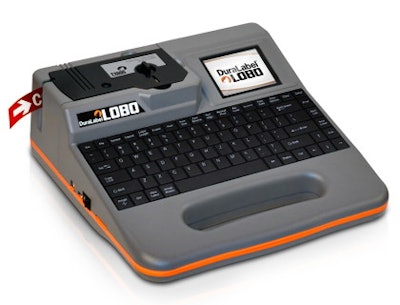 The Lobo printer features a rechargeable Lithium-Ion battery to provide more than three hours of continuous printing, and patented snap-in label cartridges available in .5-, 1-, and 2-in. sizes. The printer prints 2-in./sec., with 203 dpi. Other features include: maximum print width: 1.89-in.; maximum label length: 100-in.; full-size ergonomic keyboard; 3.5-in. diagonal color LCD display; embedded label creation software; optional battery; 6 lb. weight; uses printer cartridges; product box contains printer, power adapter, power cord, USB cord, reference.
Lobo may be loaded with any of 12 premium vinyl color combinations as well as self-laminating wire wrap, metal-detectable tape, extreme high-temp poly tape, oily surface tape, and 18 other supply types tailored for use in virtually any industrial setting.
Besides basic type labeling, Lobo has instant access to a library of more than 1,000 symbols and pictograms and basic design templates. The labeler's firmware also allows users to create sequenced numbering and barcoding capacity. The device features a 3.5-in. color screen for WYSIWYG editing, a built-in carrying handle, and a full-sized ergonomic QWERTY keyboard.
Lobo's 12-in. square footprint lets users print labels on a desk, or countertop, or even in a vehicle. Lobo doesn't require network connectivity, online connection; or even a power cord. Labeling software is pre-installed. Accessories include soft case and car power adapter.
Companies in this article