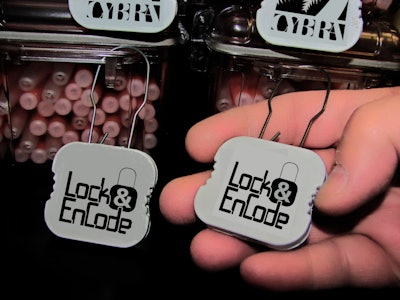 The cost-effective line of seals is designed for a range of demanding applications that require enhanced security including securing plastic distribution totes and high value items such as fine rugs.
An alternative to conventional padlocks, CYBRA Lock & EnCodeTM Locking RFID Seals feature Alien Higgs 3 silicon and are designed for global operation between 860 - 960MHz. The seals are compliant with EPCglobal Class 1 Gen 2 (version 1.2.0) and ISO-18000-6C.
Manufactured of high grade polypropylene, the CYBRA Lock & EnCode Locking RFID Seals have an advanced metal locking mechanism with a chromed steel hasp. They were developed in response to customer requests for a tamper evident seal for plastic distribution totes, containers, high-value items such as handmade carpets and rugs, and bundles of perishable goods.
The CYBRA Lock & EnCode Locking RFID Seals are available in two models – Basic and Custom. CYBRA Lock & EnCode Basic seals are delivered ready for customer RFID programming. Lock & EnCode Basic Seals accept ASCII and Hex data for flexible RFID User Data encoding using EdgeMagic EPC or EdgeMagic Mobile editions.
CYBRA Lock & EnCode Custom Seals are delivered with programmed RFID User Data encoded and permalocked to match serial numbers supplied by customer at time of order. The Custom seals are laser printed with customer logo or name, serial number, and Code 128 bar code.