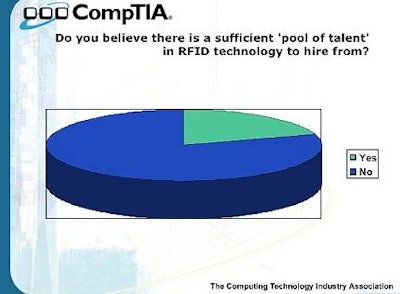 If the challenges of RFID implementation weren't daunting enough, it seems that companies are also facing a shortage of RFID expertise.
The talent pool of individuals skilled in RFID is shallow and could affect the successful adoption of the technology, according to a new survey released March 1 by the Computing Technology Industry Assn. (CompTIA).
The majority of respondents to the CompTIA survey were value-added resellers and solutions providers (33.3%); consultants and systems integrators (21.6%); and manufacturers (19.6%).
Eighty percent of companies participating in the survey said they do not believe there are sufficient numbers of professionals skilled in RFID. Exactly two-thirds of organizations said training and educating their employees in the technology is one of the biggest challenges they will face to succeed in the RFID market.
"We believe the market needs hundreds of systems integration companies with RFID capabilities, and hundreds of thousands of individuals knowledgeable in this technology, to meet current and future demand," says David Sommer, vice president, electronic commerce, CompTIA.
Upwards of 60ꯠ businesses are facing RFID usage mandates from their trading partners in the next several years, according to CompTIA. But a lack of qualified RFID integrators has slowed adoption of the technology for many companies. Organizations also are challenged because many of the skills required for successful RFID implementation are not typically associated with information technology (IT) staffs.
Kimberly-Clark concurs
While most companies can only be frustrated by the shortage of expertise, one forward-thinking company is already taking steps to head it off.
Speaking at the RFID World conference in early March, Mike O'Shea, director-corporate AutoID/RFID strategies & technology of Kimberly-Clark, one of Wal-Mart's Top 100, echoed that warning. O'Shea noted that vendors and integrators were hiring most of the few available RFID experts. K-C's concern is reflected by its proactive stance: O'Shea reported that the company is working with three universities to bolster RFID in their packaging curriculums. He cited efforts with the University of Wisconsin-Stout, Michigan State University, and the University of Texas.
More study findings
The survey of CompTIA members found that customer adoption of RFID solutions is relatively modest. A significant number of companies--71.4%--said their customers have not implemented RFID solutions. And 80% said either they have yet to go past the investigation stage of RFID implementation or have done no investigation at all.
Just 16% have implemented one or more RFID pilot projects for their companies or their customers.
Survey respondents said their customers come from a variety of industries, including services, government, manufacturing, retail, and health care.
When asked if their company will offer RFID products and services in the next three years, 37.3% of organizations said they definitely will; and 39.2% said they would consider it if there is interest from their customers.
New "pool-filling" initiative
In March, CompTIA announced an industry initiative to address those concerns. Six organizations are working with CompTIA to develop a vendor-neutral certification in the technology. These are the Assn. for Automatic Identification and Mobility (AIM Global), the worldwide authority on automatic identification; FC Business Systems, a provider of end-to-end RFID integration services; Intermec Technologies Corp., a global developer, manufacturer, and integrator of RFID technologies; OTA Training, a provider of RFID training; ScanSource, Inc., a value-added distributor of specialty technologies; and Texas Instruments Inc., the world's largest integrated manufacturer of RFID transponders and reader systems.
Six more were added in mid-April: Briljent, LLC, a provider of learning assessments and training facilitation services; ODIN technologies, a company involved in the testing of RFID infrastructure; RFID4U (a division of eSmart Source, Inc.), a supplier of vendor-neutral RFID learning solutions; RFID Journal, an independent media company; Sparkice, the China Hub for Global Commerce; and Symbol Technologies, Inc.
"This cross-section of industry representation assures that the certification of RFID skills will address the hardware, software and business process needs created by RFID," says CompTIA's Sommer.
CompTIA is a global trade association representing the business interests of the information technology industry. It has 20ꯠ members in 102 countries.
The complete press releases can be found by visiting www.comptia.org or by contacting CompTIA's Steve Ostrowski at the phone number listed below.
Companies in this article