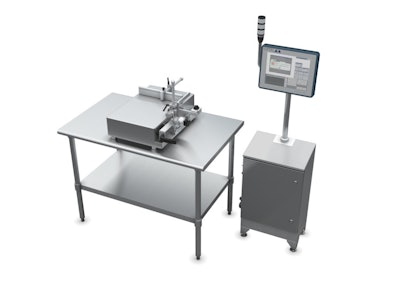 As the first serialization deadline nears, it seems everyone is scrambling to put a comprehensive solution in place that won't disrupt efficiency. Optel Vision's Mario Simard took to the Innovation Stage to give some insight into their solutions for serialization and traceability. Two products stood out: The Manual Print Station™ and CLTracker TE™.
The Manual Print Station™ is an entirely manual solution capable of printing up to 1500 cartons per hour with just one operator. Adjustable guides allow the unit to accommodate a range of carton sizes that are positioned into the desired print area. Once properly aligned, an operator uses a push/pull motion to print and inspect the information. The system is also capable of generating unique serial numbers or pulling serial numbers uploaded by an operator.
CLTracker TE is easily integrated with any OEM carton labeler. This device is well suited for European tamper evident requirements as it can identify tamper evident labels and serialize, validate, and transmit data. It can also inspect up to three sides of a carton and generate reports for EPC, reconciliation, batch trail and audit trail.
Companies in this article