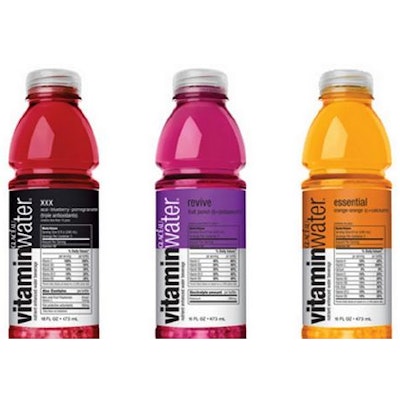 As the battle for consumers' "healthier lifestyle" dollars heats up, we've already seen the FDA go after Kellogg and Nestle making misleading health claims. Pharmaceutcal companies are making a big stink about spending billions to claim a drug lowers cholesterol when all a cereal maker has to do is slap it on the box.

This time a non-profit public interest watchdog, the Center for Science in the Public Interest, has alleged Coca Cola's latest health offering, vitaminwater "…is basically sugar-water, to which about a penny's worth of synthetic vitamins have been added. And the amount of sugar is not trivial. A bottle of vitaminwater contains 33 grams of sugar, making it more akin to a soft drink than to a healthy beverage," according to a blog post by John Robbins, author of The New Good Life, Diet for a New America.

In his post, "The Dark Side of Vitaminwater," Robbins expresses shock and surprise over Coca Cola's defense. Basically, Coca Cola lawyers claim "no consumer could reasonably be misled into thinking vitaminwater was a healthy beverage."

Does not make a whole lot of sense when "… they spend hundreds of millions of dollars advertising the product, saying it will keep you 'healthy as a horse,' and will bring about a 'healthy state of physical and mental well-being.'"

Something odd is going on in the "wild west" marketing of these products. We were lead to believe these companies really were committed to developing healthier products. While it is true vitaminwater does contain some vitamins and slightly less sugar than a soft drink, it is more than slightly disingenuous for Coke to claim they were not misleading anyone.

But the biggest casualty of all will be the CPGs who spend the time and money to launch a real functional food or beverage, only to find a jaded public tired of being conned and ripped off.

Seems like the marketing teams are trying to cash in on a craze, rather than meeting a true consumer need. Often wonder: if there was a "Truth In Labeling" law with teeth, would anyone buy a beverage labeled "33 grams of sugar and a penny's worth of vitamins?"

Tp get your daily dose of global packaging trends, follow me on Twitter.