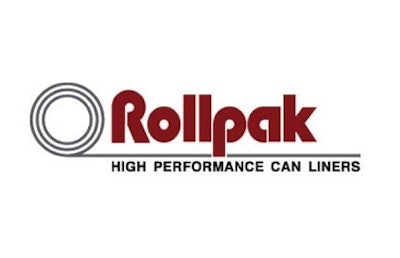 Rollpak, a Goshen, IN, producer of can liners and garbage bags for industrial and institutional use, recently developed an in-plant RFID test program that proved to them that the task can be accomplished efficiently and economically.
That's according to Alan Wyne, the company's chief information officer, who discussed the pilot program case study at a presentation September 27 at the Frontline Conference & Expo in Chicago.
Why RFID for Rollpak? Wyne explained that there is no mandate or supply chain demands pushing Rollpak to use RFID. But he explained that the company wanted to evaluate RFID return on investment. "RFID represents cutting-edge business information technology, and Rollpak is perceived as a technology leader," said Wyne. "We felt RFID could offer us a competitive advantage."
Costs detailed
The costs for the four-month training program: $5꽤. That included two readers, four linear antennas, 2ꯠ EPC tags, stands (tripods) to hold the readers, and software. Rollpak selected Alien Technology model 9780 readers, Alien antennae, and Alien RFID tags.
Readers-antennae and RFID tags Training added another $2ꯠ in costs, so the total cost came to $7꽤. That number fell below the company's $10ꯠ RFID budget.
Some key pilot program findings: EPC tags don't work well near metal or water. Orientation of the tags and readers, and the distance between them, is important. The hardware used for the program is reusable.
Wyne noted that Rollpak will expand its use of RFID to include the following:
• Link the RFID system to the company's new warehouse management system.
• Include pallet and product tagging.
• Develop an RFID lab, and incorporate EPC Gen 1 and Gen 2 tags.
• Work with vendors and customers to share information and costs.
Companies in this article