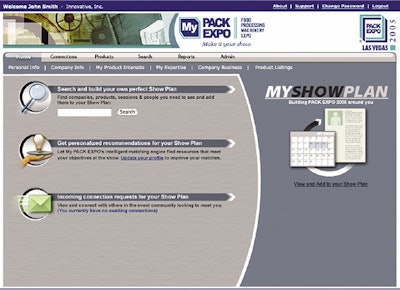 What steps can I take to improve line productivity flexibility and performance? What's happening with radio frequency identification (RFID)? What are the latest advancements in robotics coding technology and smart packaging? What's new in paperboard metal and flexible packaging? Answers to these questions – and others on virtually every aspect of packaging – will be provided to industry professionals attending the Conference at PACK EXPO.
Produced by the Packaging Machinery Manufacturers Institute (PMMI) the Conference at PACK EXPO will run from Monday September 26 2005 through Wednesday September 28 2005 in conjunction with PACK EXPO Las Vegas/Food Processing Machinery EXPO 2005. Each day's program will begin with a Keynote Presentation featuring a leading industry figure. Following the Keynote Presentations the conference program will have five concurrent program slots on Monday September 26 and four concurrent sessions on Tuesday and Wednesday September 26and 27. This flexible schedule is designed to allow attendees to register and attend individual sessions working around their other show commitments.
The comprehensive program is organized under several themes or "tracks" including RFID Operations Materials Security and Management. Within these tracks packagers can choose from a broad range of presentations covering RFID technology the latest on the FDA's Food Contact Notification (FCN) Process tips for product security and protection against counterfeiting trends in food cans stand-up pouches and plastic bottles and much more.
With so many topics to choose from PMMI has developed an efficient new way to determine which conference sessions are a good match for attendees. My PACK EXPO™ an innovative pre-show planning tool is free for all registered show attendees. To access this powerful service attendees complete a show registration form and a short profile. Once registered for the show each attendee will have a personal password-protected My PACK EXPO web page that they can access 24 hours a day 7 days a week. This unique software tool intelligently mines through the show's database of contacts products services and conference sessions to generate a custom report tailored to individual needs and interests.
"The Conference at PACK EXPO helps make the show a truly unique experience for attendees" comments Charles D. Yuska president of PMMI. "The program is extremely flexible and covers a broad range of topics so there really is something for everyone. And by using the new My PACK EXPO service in advance of the show attendees can quickly be alerted to conference sessions that are relevant based on their profiles."
Discounted registration for the Conference at PACK EXPO is currently available online at www.packexpo.com. For registrations received on or before September 8 2005 the registration fee is $55 per conference session. Registrations made after September 8 2005 and on-site will be processed at a rate of $75 per conference session. The same registration dates and fees apply for the Keynote Presentations.
Registration for the exhibits at PACK EXPO Las Vegas/Food Processing Machinery EXPO is required before one can register to attend the conference program.
Following is the Conference at PACK EXPO schedule (as of July 6 2005):
Monday September 26th
8:30 – 9:00 am
Keynote Presentation
Title: Packaging Sustainability for Dummies (and Smart Packaging Pros): Lessons from the Aveda Casebook
Speaker: John A. Delfausse Vice President Package Development Aveda
9:10 – 9:55 am
Concurrent Sessions
Session: M1
Title: Unlocking RFID's Power to Improve Packaging Productivity
Speaker: Matt Ream Senior Manager RFID Systems Zebra Technologies Corporation
Session: M2
Title: What is this Obsession with Speed? Slow Down and Improve Your Performance
Speaker: Paul Patterson Director of Sales and Marketing ATS Automation Tooling Systems Inc.
Session: M3
Title: Barrier Options for PET Bottles: Luck or Logic
Speaker: Lawrence Mucha Manager Future Technologies Development P.E.T. Terra Systems Inc.
Session: M4
Title: Packaging Security and the Pyramid of Complexity
Speaker: Carolyn Burns Global Marketing Manager DuPont Security Solutions
Session: M5
Title: Clearing Your Packaging through the FDA's Food Contact Notification (FCN) Process in 120 Days
Speaker: David Ettinger Attorney at Law Keller and Heckman LLP
10:05 – 10:50 am
Concurrent Sessions
Session: M6
Title: Gaining ROI: How RFID Can Enable a 'Track and Trace' Solution within the Supply Chain
Speaker: Serge Joris Director of CoLOS Product Solutions MARKEM Corporation
Session: M7
Title: New Strategies for Tracking Equipment Maintenance and Repair Costs
Speaker: Michael Holloway Director of Technical Development and Reliability NCH Corporation
Session: M8
Title: Aluminum Beverage Containers: Innovations and New Markets
Speaker: Craig Covert Manager of Marketing & Communications Alcoa Inc. and Jim Fisher Vice President Packaging Industry Affairs Ball Corporation
Session: M9
Title: Product Security: Protecting Against the "Fifth Column" Threat
Speaker: Ken Bloomfield President Tellico Harbor Consulting
Session: M10
Title: RFID: Customer Contracts Privacy and the Law
Speaker: Ronald Quirk Attorney Venable LLP
11:00am – 11:45 am
Concurrent Sessions
Session: M11
Title: RFID in the Consumer Goods Chain: Mandated Compliance or Remarkable Innovation?
Speaker: Larry Shutzberg Vice President & Chief Information Officer Rock-Tenn Company
Session: M12
Title: Troubleshooting Molson-Coors' Packaging Equipment
Speaker: Paul Everitt Asset Care Manager Molson-Coors Brewing Co. and Russell D. Leonard Vice President Monitoring Technology Corporation
Session: M13
Title: Paperboard Innovation and Marketplace Value
Speaker: Brian F. Wagner Vice President Packaging & Technology Integrated Solutions LLC
Session: M14
Title: Mass Serialization: The Bridge to RFID
Speaker: Gregg Metcalf Industry Market Manager Nosco Security Protection Nosco Inc.
Session: M15
Title: Brand Enhancement through Smart Packaging
Speaker: Paul Butler Director Packaging Materials & Technologies Ltd.
11:55 – 12:40 pm
Concurrent Sessions
Session: M16
Title: Guidelines for Using Passive RFID Transponders
Speaker: Rick Fox President & CEO FOX IV Technologies Inc.
Session: M17
Title: Robotic Packaging Automation Opportunities
Speaker: Mark Senti GM/Vice President GSMA - Division of SWF Companies
Session: M18
Title: Aroma-Enhanced Packaging
Speaker: Steven Landau Co-founder & Chief Technical Officer ScentSational Technologies
Session: M19
Title: Stamping out Counterfeit Drugs with In-Seam RFID Tags using Conductive Adhesives
Speaker: Sushil Bhatia Executive in Residence Suffolk University Boston MA
Session: M20
Title: Coding Technology Advances Keep Pace with Packaging Trends
Speaker: Chuck Ravetto Director Small Character Marking Videojet Technologies Inc.
Tuesday September 27th
8:30 – 9:00 am
Keynote Presentation:
Title: Nestlé's Innovation Approach to Sustainable and Differentiated Packaging: Exceeding Consumer & Customer Expectations Improving Performance and Optimizing Costs
Speaker: Helmut Traitler Vice President Packaging Nestec Ltd.
9:10 – 9:55 am
Concurrent Sessions
Session: T1
Title: RFID and the Future of Packaging
Speaker: Mark Roberti Editor RFID Journal
Session: T2
Title: Maximizing Performance on Your Existing Line
Speaker: Mark Garvey President Garvey Corporation
Session: T3
Title: Using Robots to Improve Your Pharmaceutical Packaging Line Flexibility
Speaker: Ignacio Muñoz Guerra General Director AutoPak Engineering Corporation; Carl Traynor Senior Director Marketing Motoman Inc.; and Enrique Moran Director of Engineering & Automation Baxter Healthcare Corporation
Session: T4
Title: Sustainable Packaging: The Metal Food Can's Environmental Impact
Speakers: Bill Heenan President Steel Recycling Institute; Tom Hale Senior Vice President Sales & Marketing Ball Corporation; Jeff DeLiberty Senior Marketing Manager Silgan Containers Corporation; and Jim Wilson Vice President of Sales Food Division CROWN Food Packaging USA
10:05 – 10:50 am
Concurrent Sessions
Session: T5
Title: Integrating RFID into Packages: What to Consider in Meeting Customer Requirements
Speaker: John Thorn General Manager RFID Group Checkpoint Systems Inc.
Session: T6
Title: How to Improve Packaging Quality and Efficiencies Significantly
Speaker: Mike Haldane Business Manager 3M
Session: T7
Title: What's Next in Packaging/Product Delivery? New Pharma Options Provide Some Answers
Speaker: Neil Kozarsky CEO Momentus Solutions LLC
Session: T8
Title: Capitalizing on the 'Nature-Based' Packaging Trend: A Case Study
Speaker: Lisa Owen Global Business Leader for Rigid Packaging NatureWorks LLC
11:00am – 11:45 am
Concurrent Sessions
Session: T9
Title: RFID's ROI is in the 'Problem-Solving' Stack
Speaker: Bill Arnold Partner Business Manager Omron Electronics LLC
Session: T10
Title: Engineering Flexibility into Your Packaging Operations
Speaker: Edward Goldman Senior Vice President Foster-Miller Inc.
Session: T11
Title: Qualifying to be a Healthcare Packaging Provider
Speaker: Eric Gatmaitan Director SMConsulting LLC
Session: T12
Title: The Cost-Saving and Recycling Appeal of Polyolefin High-Shrink Roll-Fed Labels
Speakers: Moris Amon Technical Director and Suner Rajan Business Development Manager Avery Dennison Engineered Films Division
11:55 – 12:40 pm
Concurrent Sessions
Session: T13
Title: How to Meet RFID Case- and Pallet-Tagging Mandates
Speaker: Ann Marie Phaneuf Director of Marketing Weber Marking Systems Inc.
Session: T14
Title: Turning Information into Productivity: Successful Training Strategies for Manufacturing and Packaging Operations
Speaker: Rande Allen Training Manager E2M/Polytron Training
Session: T15
Title: Meeting the Moisture-Protection Needs of the New Pharmaceutical Formulations
Speaker: Adrian Possumato Business Development Leader Pharmaceuticals Multisorb Technologies Inc.
Session: T16
Title: Next Generation Stand-Up Pouches: New Capabilities New Markets
Speaker: Charles Murray President & CEO PPi Technologies
Wednesday September 28th
8:30 – 9:00 am
Keynote Presentation:
Title: Are Your Medications Real? The EPC and Counterfeit Pharmaceuticals
Speaker: Mike Meranda President EPCglobal US
9:10 – 9:55 am
Concurrent Sessions
Session: W1
Title: Using System Improvement Techniques to Increase Your Packaging Throughput
Speaker: Daniel G. Finazzo P.E. Manager Manufacturing Systems Group Lockwood Greene Engineering Inc.
Session: W2
Title: Moving Beyond 'Slap-and-Ship' to On-Line RFID Packaging Solutions
Speaker: Craig Heidorn Product Manager Diagraph An ITW Company
Session: W3
Title: Maxed Out on Productivity? Take Operational Efficiencies to the Next Level with Make2Pack
Speakers: John Kowal Global Marketing Manager Elau Inc.; David Chappell Technology Leader The Procter & Gamble Company; Fred Putman Consultant MARKEM Corporation; and Joe Faust Electrical Engineering Manager Douglas Machines Inc.
Session: W4
Title: How Your Packaging Choices Can Reduce 'Unsaleables' and Boost Your Bottom Line
Speaker: Mike Ghassali Senior Vice President of Genco Damage Research GENCO Distribution System
10:05 – 10:50 am
Concurrent Sessions
Session: W5
Title: Utilizing OEE (Overall Equipment Effectiveness) to Maximize Packaging Line Productivity
Speaker: Scott Klages VP Senior Manufacturing Consultant Parsec Automation Corp.
Session: W6
Title: Incorporating RFID in the Package Architecture
Speaker: Rick Garber Business Unit Manager Smart Technology Colder Products Company
Session: W7
Title: Servo Motion Control: The Heart and Soul of Packaging
Speaker: Marghub Mirza Staff Engineer Parker Hannifin Corporation
Session: W8
Title: Supplier Relationship Management: A Packaging Road Map
Speaker: Bill Michels CEO ADR North America LLC
11:00am – 11:45 am
Concurrent Sessions
Session: W9
Title: Valuing Ergonomic Packaging Machine Design
Speaker: Dan Perez Project Manager Radius Product Development Inc. and Ken Sullivan Director of Marketing SCA Packaging Consumer Products
Session: W10
Title: Mapping the Route to Full RFID Deployment ROI
Speaker: Mike Cianfarani Supply Chain Consultant Siemens Logistics & Assembly Systems
Session: W11
Title: Real Time Ethernet: Assuring Accurate Efficient and Timely Packaging Operations Data Transfer
Speaker: Markus Sandhoefner Sales Manager B&R Industrial Automation
Session: W12
Title: Calculating and Cutting Changeover's High Cost
Speaker: John Henry CPP Changeover.com
For more information on PACK EXPO Las Vegas visit www.packexpo.com. You can also contact PMMI's Show Department at (703) 243-8555; fax (703) 243-8556; or e-mail expo@pmmi.org.
The Packaging Machinery Manufacturers Institute (PMMI) is a trade association whose more than 500 members manufacture packaging and packaging-related converting machinery in the United States and Canada. PMMI's vision is to be the leading global resource for packaging. Its mission is to improve and promote members' abilities to meet the needs of their customers.
PMMI is the sponsor and producer of the PACK EXPO shows the world's leading packaging shows. PACK EXPO Las Vegas 2005 takes place September 26-28 2005 at the Las Vegas Convention Center in Las Vegas NV USA. PACK EXPO International 2006 will be held October 29 – November 2 2006 at McCormick Place Chicago IL USA. PMMI also produces EXPO PACK México the largest packaging show serving the Latin American region. This show will be held June 27-30 2006 at Centro Banamex Mexico City Mexico.
Companies in this article
Videos from Weber Packaging Solutions