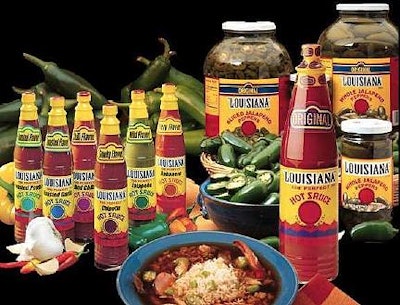 A major specialty food manufacturer of Cajun foods, Bruce Foods has an RFID solution that relies on technology and integration from RedPrairie. Bruce Foods expects the technology to improve efficiencies in picking and inventory tracking, according to Patrick Brown, director of purchasing and logistics at the New Iberia, LA, food manufacturer.
RedPrairie business development manager Matt Reinke says it will explore and test RFID options with Bruce Foods starting in 2005 that will meet Wal-Mart case and pallet tagging mandates. Although not among Wal-Mart's Top 100 suppliers who must meet the January 1, 2005 deadline for RFID, Bruce Foods expects to be called for the next tier.
Starts with a solid foundation
Bruce is first implementing its RFID program by laying a solid foundation as part of an overall supply chain project. Data tracking in its supply chain will be done via an automated Enterprise Resource Planning (ERP) system for its manufacturing and distribution channels.
That's exactly the approach recommended by Deloitte's RFID expert John Greaves, who told Packaging World in an interview that such systems that can provide data synchronization are the necessary foundation of a viable RFID program.
The emphasis will be on visibility--knowing what product is where.
"We are extremely confident in RedPrairie's ability to handle our track and trace requirements," says Bruce Foods's Brown. "Their system's functionality is the most extensive we've observed."
Then comes RFID rollout
RedPrairie uses RFID products from a range of partners and will guide Bruce Foods toward what is best for their applications.
RedPrairie's RFID Igniter® will permit Bruce Foods to simultaneously manage data from bar codes and RFID tags. The company will then be positioned to test and implement a full range of RFID technology for its diverse range of packaging, from cased to foil-packaged and paper-based packaging, according to Reinke.
Bruce Foods will take a very simple approach, starting with 'slap and ship' RFID to meet the Wal-Mart requirement, according to Reinke. "They will take baby steps as they rollout RFID," he says. As volumes increase, they may extend RFID implementation backwards into production. That's what many consumer goods companies are doing, Reinke says: first becoming Wal-Mart compliant, then rolling out RFID more fully.
A member of UCCNet Global, Bruce Foods is one of America's largest privately-owned food manufacturers. Founded in 1928, Bruce Foods employs 1길 and operates four U.S.-based production plants.
Companies in this article