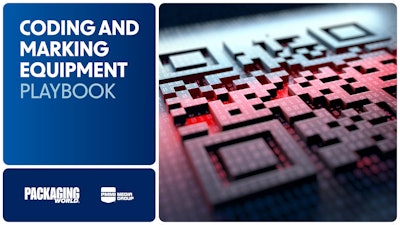 In today's world, efficiency is the end goal for all packaging equipment, and that's true for coding and marking, too. Whether you're looking at coding and marking equipment for primary packaging, or cases and pallets, choosing the right equipment is key.
In our latest Playbook, you'll discover best practices for an efficient coding and marking operation, tips for a successful setup, and a look at various coding technologies so you can choose the right one for you.
Download this free Playbook today for everything you need to know about coding and marking including:
• Tips for buying coding/marking systems for primary packaging
• Ensuring a successful setup
• Tips for buying coding/marking equipment for cases and pallets
• Best practices for an efficient operation
• Comparing code technologies
• And more!