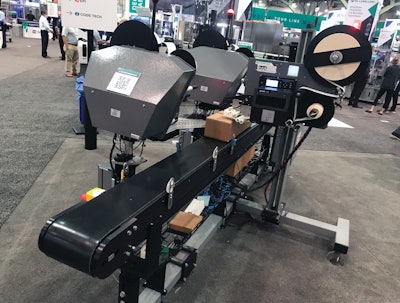 Designed for labeling cases and trays with GS1-compliant barcodes and alphanumeric text at very high speeds, the 258 applicator (1) from ID Technology, a ProMach brand, improves print quality and barcode readability while greatly easing use with its unique one-button operation, according to the company.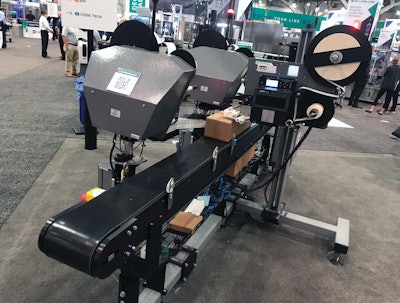 "A lot of our customers kind of are stuck having to make a compromise. Everybody wants the lines to run faster and have more output. And at the same time, they also need to maintain quality, particularly if you're printing barcodes," David Holliday, Director of Product Marketing, ID Technology, told Packaging World editors at the booth. "And you want to get rid of downtime and keep efficiencies up and all of those good things. The 258 solves for a lot of those compromises."
Adds Mark Bowden, Vice President of Sales & Service at ID Technology: "Our patent-pending CrossMerge technology allows us to decouple print speed from line speed and rotate the print head to change print orientation. This increases line throughput while decreasing print speed to simultaneously maximize packaging line output and enhance print quality. Our next-generation Model 258 labeler also simplifies operation. Single-button functionality and the ability to easily swing the applicator from its running position to its service position and back make the 258 perfect for less trained operators in high-turnover environments."
Unlike traditional tamp or feed-on-demand print & apply labelers that must produce linear barcodes in the non-preferred 'ladder' direction to apply GS1-compliant labels in landscape orientation, CrossMerge prints barcodes in the preferred 'picket fence' direction and applies labels in landscape orientation. CrossMerge technology enables the 258 label applicator to produce more readable barcodes with crisper edges to ensure the best scores when verified.
By rotating the print head, the 258 applicator can print a 4x2 label to apply a 2x4 label, which optimizes the conditions for both barcode printing and label application. This facilitates 50% more labels on the roll, running line speeds up to 50% faster and/or achieving 50% greater print head and print engine life. The 258 applicator maximizes uptime and minimizes the total cost of ownership while enhancing print quality, according to the company.
Dedicated to labeling cases and trays, the 258 applicator prints and applies labels 3.5- to 6-in. (90 to 152 mm) wide and 1.75 to 4 in. (45 to 100 mm) in length to cases and trays on packaging lines running at speeds to 190 feet (58 m) per minute.
Compared to traditional print & apply labelers that require the printer to pause while the tamp pad is traversing, CrossMerge decouples print speed from line speed. Using a vacuum belt to transfer labels from the print engine to the point of application, the Model 258 applicator allows multiple labels to be on the vacuum belt at the same time and enables the system to start printing the label for the next product without delay. The all-electric design features a fan-based vacuum generator—it requires no factory air.
Over on the ink-jet side of the marking and coding space, the new 5940 G Touch Dry high-resolution inkjet coder from Markem-Imaje made its debut during PACK EXPO Las Vegas. The GS1-128 compliant system meets growing industry demands for sustaining high-resolution barcodes, branding, and text on corrugated packaging without incurring the high cost of labels. It also reduces the need for pre-printed corrugated packaging.
The new system features Markem-Imaje's proprietary Touch Dry inks that instantly dry on contact, enabling increased readability of GS1-128 barcodes for more reliable traceability. Plus—unlike liquid inks—Touch Dry inks will not spread along corrugated fibers and lose resolution. A variety of colored inks are available. They are VOC-free, safe to handle and support sustainability.
Applicable for a broad range of materials, the 5940 G prints highly scannable barcodes on corrugated cases and trays of fresh produce, beverages, meats, confectionery, and many other foods as well as precision printing on polystyrene for frozen foods and shrink wrap for pallet shipments. In addition, the system prints clean, crisp information and codes on porous surfaces including fabrics and non-wovens for medical masks, gowns, and diapers.
The innovation also features a patent pending, Intelli'Flow printhead technology that avoids nozzle blockages due to ink backsplash and dust buildup. Plus, a filtering process that effectively degasses the ink during printing keeps the jetting mechanism clean and clear, resulting in a higher print quality, greater throughput, reduced maintenance, and less downtime.
The system also supports increased throughput by enabling faster heat-up time by 67%. Also, each unit features from one to four printheads to support diverse and complex printing.
Supporting the printheads is a specially designed ink container—which is 75% larger than most competitors—cutting operator intervention by 43%. Ink containers can also be replaced without stopping production. And the 5940 G affords easy access to internal components, with parts quickly replaced within an average of 15 minutes from problem identification.
Greg Kasprzak, Senior Product Marketing Manager, Markem-Imaje, says, "The 5940 G system's breakthrough Intelli'Flow printhead technology combined with fast-setting Touch Dry inks consistently achieves sustained, exceptional print quality of complex, compliant barcodes on corrugated and other difficult substrates, delivering a significant ROI."
Furthermore, the 5940 G leverages Markem-Imaje's packaging intelligence software to help manufacturers maintain their entire database of print jobs centrally, streamlining print management and supporting greater throughput. Says Kasprzak, "It's all about delivering intelligence, beyond the mark."
---
| | |
| --- | --- |
| | |
---
Videojet at its PACK EXPO booth demonstrated its 1880 continuous inkjet (CIJ) printer (2), designed for uptime with minimal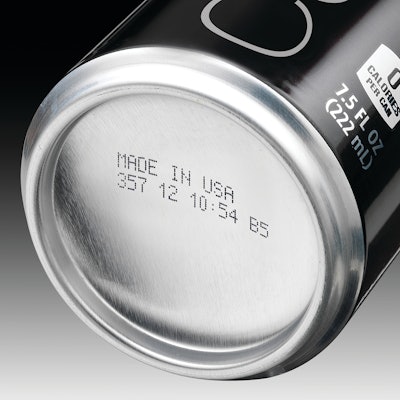 touches. Large 1-L cartridges and reduced makeup consumption compared to many other printers mean that the printer runs longer on each cartridge, reducing the touches by operators. The unique Videojet ink build-up sensor sends an alert when the print head is getting dirty so it can be cleaned before it faults, taking the guesswork out of periodic cleaning. When needed, the auto-rinse feature is quick and efficient, only using up 2.5 mL of fluid in the cleaning cycle and taking just 90 seconds to run. The printer features a single service module that is changed annually regardless of run hours. The replacement takes only minutes, even for a novice user. Built with compatibility in mind, the 1880 is a plug-in replacement for most Videojet CIJ models for an easy upgrade.
With more than 30 inks to choose from, the company says that Videojet 1880 is suitable for printing on an array of packaging types in the beverage, frozen foods, meat and poultry, and baked product industries. Users can take advantage of its Videojet MAXIMiZE™ advanced diagnostics suite to continuously monitor and display the printer's health parameters and help identify if a fault is likely to occur. The printer provides on-screen notifications and on-board videos to walk users through proactive maintenance routines.
Companies in this article