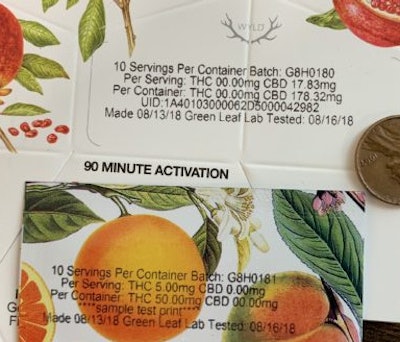 Show Daily Exclusive - Regulatory requirements for labeling make packaging cannabidiol (CBD), tetrahydrocannabinol (THC) and cannabis products a challenge. A typical CBD product must carry a considerable range of information including date codes, Unique Identifer, batch numbers, weight and CBD and THC content.
Wyld Edibles, a supplier of cannabis edibles such as gummies and chocolates, needed help to meet labeling requirements and contacted Case Printing Solutions, a reseller of AT Information Products (Booth C-2736) and Custom Pak (Booth C-2736). "After struggling with a cheap machine purchased from overseas, we called Case, and they designed a new solution that had us up and running within days," recalls Tyler Elson, director of Business Development at Wyld Edibles.
The decision was to replace labeling with direct coding by a Markoprint X1Jet printer. Elson reports, "They were able to work with our custom packaging and reduce our labor costs for hand labeling." The versatile Markoprint inkjet printer can code in 0.5-in. increments. A small footprint permits installation on a wide range of line conveyors or packaging machines such as high-speed feeders, form/fill/seal machines, labelers and egg cartoners.
At Wyld Edibles, the inkjet integrates with an RF Lite tabletop feeding system to code carton blanks. This system also can code plastic bags for edibles and other industrial hemp products.
Eliminating labels, which were applied manually, cuts both labor and materials costs. Inline digital direct coding not only minimizes up-front capital costs but also generates savings every month on labor and supplies.
"We have quadrupled the amount of packaging that can be labeled now which correlates directly to a tremendous cost savings," concludes Elson.
For more information, visit www.atip-usa.com. SD
Companies in this article