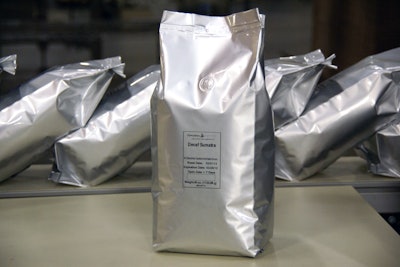 Caribou Coffee Company, Inc., Minneapolis, MN, is one of the largest specialty coffee companies in the U.S. It operates more than 500 company-owned locations, employs more than 6,000 people, and reaps more than $325 million in annual revenue.

As part of its efforts to meet growing demand for its products, Caribou Coffee wanted to improve its package coding and marking systems to enhance traceability. Rick Larsen, senior manager of engineering and maintenance, supply chain, at Caribou recognized that the package coding system they had been using was costly and sometimes not optimally reliable.

Caribou operates vertical form/fill/seal equipment from multiple vendors—including Fres-Co Systems USA, Inc., General Packaging Equipment, and LPT (Luciano Packaging Technologies)/Key-Pak. The coffee company uses a variety of pouch structures, including 2-ply silver metallized PET, 4-ply nylon, 4-ply PET, plus easy-open mechanisms. Most of these films are supplied by Fres-Co and Ultra-Flex Packaging.

Larsen recalls, "We had been looking to automate our 16-ounce and 12-ounce packages, as well as aiming to make the packages more appealing. But we were having coding issues, and the system wasn't user-friendly."

So when the company decided to switch to a new foil material pouch structure in 2003, Caribou also opted to institute new coding equipment, the SmartDate® 2 from Markem-Imaje, a thermal transfer overprinter that delivers high-quality printing to flexible packaging at high speeds. The SmartDate features advanced ribbon-saving features and is designed to deliver more prints per ribbon. It can print up to 1,000 mm per second and as low as 5 mm per second, able to accommodate extreme substrate acceleration/deceleration conditions.

The Markem-Imaje coding systems have undergone several upgrades since 2003. The SmartDate system is now in its fifth version, and Caribou, a true believer in the system, has implemented the upgrade to even more vigorously accommodate its date, batch, and traceability coding/printing challenges. The coffee company now uses Markem SmartDate to code foil pouches as well as the Markem Cimjet® to code shipping case corner labels.

Larsen says, "Our customers were looking for two-sided, corner wrap labels. We had tried ink-jet printers, but the quality wasn't there. So it was customer demand that drove us to implement Markem's Cimjet®."

Cimjet is engineered to deliver accurate, clear codes and 100% readable barcodes meeting GS1 (UCC-EAN) standards. The Cimjet system offers a range of label applicators, such as corner wrap and tamp blow applicators, and the plug-in barcode scanner provides instant confirmation of label application and barcode reads. Caribou Coffee installed its first Markem Cimjet corner case labeling equipment in 2007.

Coding flexibility

Caribou Coffee currently offers about 20 different varietals. To accommodate all these varietals, Caribou needs maximum coding flexibility to match the different labels and barcodes. Markem-Imaje put the printers on HOST mode, allowing Caribou to download any job off a central network. All the Caribou codes are stored in a general database. So Caribou staffers can go to a workstation, select the job they want, and send it down to the selected packaging line.

Today, Caribou Coffee has six production lines within its packaging and roasting room. All six of these lines incorporate CimJets and SmartDates from Markem-Imaje. Caribou also has adopted Markem-Imaje CoLOS®—a sophisticated coding software system that is dedicated to complex label image design and printer network control as well as traceability software for coding integrity and pallet tracking.

Centralized control

The suite of labeling, coding, and networking solutions has helped Caribou Coffee streamline its coding operations while also improving efficiencies and ease of operation. Larsen says, "I can remotely log in to make coding and printing changes across the board. I don't have to go out to each production line and load those changes separately. Having superior print quality and control is important to us. Markem-Imaje's systems have proven to work well for us, and we get great support from them whenever we have questions or concerns."
Companies in this article