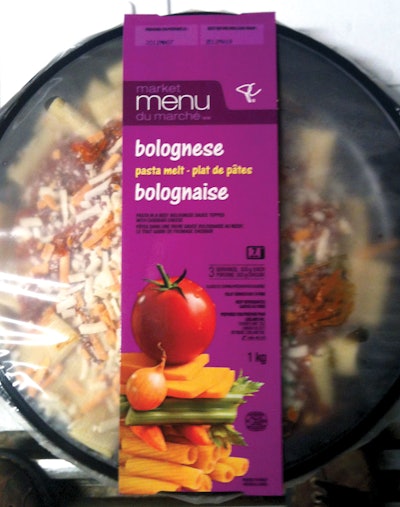 A leading provider of fresh prepared foods and produce with 57 plants in 10 countries around the world, U.K.-based Bakkavor opened up operations in Canada in 2011.

The new Bakkavor Foods Canada plant in Cobourg, Ontario, will deliver some 80 new products to market, including Italian and traditional Asian meals as well as vegetable side dishes, soups, sauces, and salad meals. "We produce 43 different products," says Alana Weatherby, warehouse/purchasing manager.

The factory is like one big kitchen, out of which come ready meals and other prepared foods that have no preservatives and have a refrigerated shelf life of 7-12 days.

Two bits of semi automation, however, have made their way into the plant. One is a tray sealer from ProSeal. An operator places a filled CPET tray into this machine and pushes a button to cause its sealing head to heat seal clear polyester lidding material with easy-peel characteristics to the tray flange. Sealed trays pass through a Fortress Technology metal detector and are then slipped by hand into paperboard sleeves.

Added even more recently is a Model CX16F ink-jet coder from Matthews Marking Products. It's fed by a friction feeder from Pineberry Manufacturing. A sensor detects the position of the paperboard sleeve and triggers the ink-jet coder to print date and lot code information in a small window on the paperboard sleeve. According to Bakkavor's Weatherby, the machine has been a welcome addition indeed.

"We used to have four employees a day doing the coding of these sleeves," says Weatherby. "They'd print a sticker and then peel the sticker from its backing and apply it to a stack of sleeves, as many sleeves as were going to be needed that shift. Now the operator determines at the beginning of a shift how many trays will be produced and then counts out that many paperboard sleeves and feeds them into the Pineberry friction feeder. In a matter of minutes the sleeves are ink-jet coded, and all the operator needs to do is bring them into the factory."

Pineberry Manufacturing assisted in the installation of the integrated friction feeder and ink-jet coder. According to Pineberry's David McCharles, the Matthews CX16F was chosen on the strength of its reliability, simplicity, and overall value.
Companies in this article
Videos from Fortress Technology, Inc.