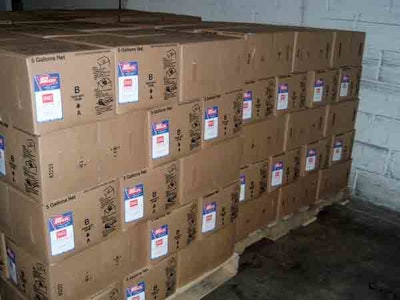 Label printers for manufacturing applications are typically judged on both their printing quality and their throughput. However, not every company requires the lightning-fast line speeds that are now possible with today's printing technology. There have not been many options for budget-conscious customers that need a quality printer for low-volume production lines.
That was what syrup manufacturer Sea Breeze Fruit Flavors Inc. discovered when it decided to replace a printer-applicator for a low-throughput operation at its manufacturing facility. The company needed a reliable printer-applicator for its bag-in-box beverage concentrate packaging, but the new machine had to fit within its budget.
The company has deployed the Model 10.61 Economy Print & Apply Labeler from Labeling Systems Inc. (www.labelingsystems.com), a light-duty printer-applicator based on the Lt408 print engine from Sato America Inc. (www.satoamerica.com). The new unit has met Sea Breeze's requirements in both performance and price.It's also kept the packaging line running smoothly. "It's a lower cost model but still includes the features that meet our needs," says Frank Maranino, technical director at Sea Breeze.
Sea Breeze is an 80-year-old, family-owned syrup manufacturer and provider of beverage dispensing equipment and repair services. The company distributes nationally branded soft drink syrups (RC Cola and Diet Rite), energy drinks, and smoothie mixes, but it's probably best known for its Bosco line of syrups.
The company uses a number of different label printers at its Towaco, NJ, manufacturing facility to produce and apply labels on 1-gal jugs, 5-gal stainless steel canisters, and bag-in-box concentrate packages. The bag-in-box production line is a fairly simple operation, so when the printer-applicator used for that operation became obsolete, Sea Breeze went looking for an economical printing solution that would meet its quality and reliability needs.
The company spent a month investigating new printer-applicators before they found the LSI solution. "LSI is a local company, so they were able to set up a trial right here," says Maranino. Sea Breeze also had a long-standing relationship with LSI, and uses another of the company's printer-applicators for labeling its 1-gal jugs.
The bag-in-box line runs smoothly with a variety of package sizes, so the Model 10.61 labeler was a perfect fit. "The Model 10.61 is a lower cost model with the print engine sized perfectly to our needs, so it has worked out very well for our application," says Maranino.
The printer is used to label boxes containing bags of beverage concentrate. Depending on the customer, the labels can include a mix of bar code and human-readable information, including product name, ingredients, manufacturer's name, and production code. The concentrates are shipped to foodservice operations that have beverage-dispensing equipment.
Installation took less than a full day, and the unit is integrated with the EasyLabel software from Tharo Systems Inc. (www.tharo.com) that was already in place at Sea Breeze. The printer communicates with the rest of the company's infrastructure via an RS-232 connection.
The Model 10.61 is based on the new Lt408 print engine from Sato. The 203 dpi unit prints from 2" to 6"/sec, and it's designed for small and mid-sized manufacturers with labor-intensive, slower speed production lines.
According to LSI, a totally new labeling head was required to accommodate the print engine. "To reach the price point we needed, we pulled from some technology we've used in the past and put together a solid machine, and all the components have a good track record," says Jack Roe, executive vice president at LSI.
"The printer meets a market need not being served by other print engines out there," says Bob Lanzendorf, OEM sales and marketing manager at Sato America. "For these low-throughput applications, users couldn't justify automating the process at the cost of existing printer-applicators."
Maranino says the new printer-applicator is working out well, and he's open to expanding the deployment when the need arises. "We're set right for the time being, but when we have another application for it, we'd definitely consider another unit," says Maranino.
Companies in this article