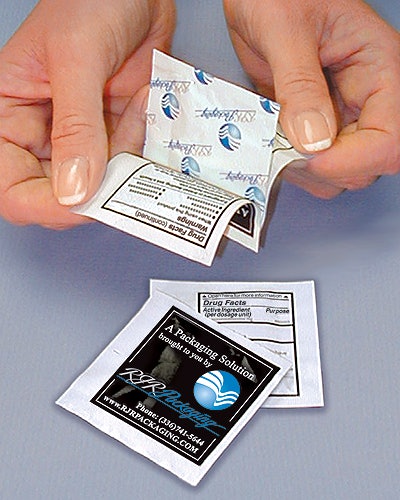 That screeching sound heard throughout the over-the-counter (OTC) drug packaging industry on April 5 was the grinding to a halt of efforts to figure out how to apply the new "Drug Facts" label on convenience-sized packages. On that day, the FDA postponed the looming May 16, 2002, compliance deadline for OTC packages with one or two doses.
Companies such as McNeil, Pfizer, and Warner-Lambert have been spending significant dollars repackaging and relabeling all OTC products—no matter what the size of the package—in the wake of the FDA's "Drug Facts" labeling rule that was published in May 1999 (see packworld.com/go/c036).
Adding the larger Drug Facts label on large packages was fairly easy. But small OTC drug packages—the kind sold at the check-out counter at convenience stores and sent to physicians as samples—could not fit the new label information without being upsized at a huge new cost.
The Drug Facts label has five or six sections (one is optional), each of which must appear in a designated order. The amount of copy in each section will vary based on the FDA-approved monograph for that product class. Many companies had been filing requests at the FDA for extensions of the May 16, 2002, deadline.
McNeil Consumer & Specialty Pharmaceuticals, Ft. Washington, PA, was among them. The company has been in the process of deploying a new booklet-pouch package for its Motrin and Tylenol one- and two-dose packs. Eric Widor, a staff packaging engineer, helped design the booklet-pouch combination, in conjunction with RJR Packaging (Winston-Salem, N.C.), the company that has applied for a patent for the Peel-A-Fact™ package.
Absent the booklet pouch, McNeil and other companies would have had to double the size of their existing pouches to accommodate the Drug Facts label copy. That meant doubling the costs of material, mostly aluminum foil, which makes up 70% of the pouch. Packaging line running speeds would have slowed, too. But that double-size pouch would have still included just one or two doses of Imodium, Tylenol, Motrin, or whatever.
Initially, prior to granting the stay, the FDA had estimated it would cost OTC companies $18 million to adapt convenience packages. "We looked at that number and said 'No way! There has to be a better way,'" explains Widor. Hence the development of the booklet pouch, which is not being used by any company just yet.
The additional costs for the paper, printing, and the adhesive for the booklet are called "incremental," by Widor. They are considerably less than the additional costs of extra foil.
Holding off, for now
But now, in response to the FDA announcement, McNeil and others are holding some convenience packaging changes in abeyance, while the FDA decides on its next step. The April 5 stay applies only to two categories of convenience packages: those that contain no more than two doses of an OTC drug, and those that would devote more than 60% of the labeling space on a package to the Drug Facts label.
All other OTC drug packages—with one important exception—have been required to meet the deadline. The exception is combination cold-and-cough product, such as an antihistamine with ibuprofen. But an antihistamine alone is covered. The combo products are temporarily exempt because the FDA has not published what is called a "monograph" for those products. Gerald Rachanow, a regulatory counsel in the FDA division of OTC drug products, says that combo monograph is expected to be completed by the end of 2002.
As for the two product categories subject to the stay, they can continue to use existing labeling while the FDA continues to negotiate with the industry on possible solutions.
Industry wants more
However, there are voices within the OTC industry clamoring for a more expansive definition of "convenience package." Bill Soller, senior vice president of the Consumer Healthcare Products Assn., says that some people consider a 24-caplet or tablet package "convenience size" because it can be tossed in a woman's purse in the morning as she runs out of the house to her office. The FDA clearly does not buy that argument.
Robert Kohler of Pfizer Consumer Healthcare, Morris Plains, NJ, wrote to the FDA on February 27, 2002, asking for an extra seven months beyond May 16, so the company could "acquire, install and validate the equipment that is necessary to produce, on a reliable, repetitive basis, a 'compliant' roll package" for its Rolaids 10- and 12-count packages.
Others ready
But in other instances, manufacturers have already "bitten the bullet" and appear ready to relabel convenience-size products. For example, Harland Machine Systems (Delran, NJ) offers its Pulsar labeling machine that wraps a peel-back, scroll-type multi-panel label around small convenience vials, frequently the size of lipstick containers. The vial label can contain as many as three plies.
However, these vial-packed products are also covered by the April 5 stay because their labels take up more than 60 percent of the package surface area. "But some companies are already installing the machines," says Joe Zaiss, sales manager at Harland.
Despite granting the stay, the FDA seems to believe that there is an easy and inexpensive solution for small pouch packages, too. The FDA's Rachanow says that companies have told him that the costs of putting a label insert inside a convenience package would be minimal.
But McNeil's Widor believes that solution is problematic because the consumer would not have the Drug Facts information available prior to purchase. Another packaging industry executive points out that companies would have to run stability tests for each product line before being able to insert a label. Each product stability test would cost between $17ꯠ and $30ꯠ.
Convenience-size OTC products will be covered eventually by the Drug Facts rule. There is no doubt about that. But compliance by OTC drug companies will be anything but convenient.
Companies in this article