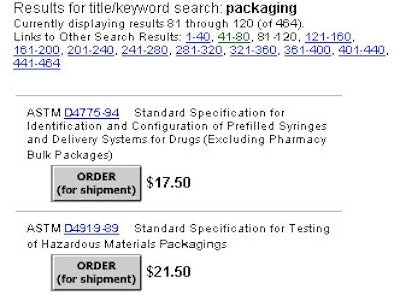 Packagers can search electronically for standards documents to relevant packaging or labeling and purchase them on-line. Ironically, only a fraction of these documents are available for immediate electronic delivery. The vast majority are still printed on paper, which must be shipped. Prices range from $17.50 to sometimes more than $300 per document.
The reason more documents aren't offered electronically is due to concern on the part of the distributors and SDOs that electronic versions of documents can be copied and forwarded quickly and freely. However, "most standards publishers are coming around [to allowing electronic dissemination], slowly," says Andrew Bank, vice president of business development with CSSinfo (www.cssinfo.com), a third-party standards provider.
At any rate, the ability to search large groups of global packaging (and other) standards from multiple SDOs is a compelling feature for packagers looking to comply with region- or market-specific standards. Although site visitors may pay slightly more by purchasing through a distributor, many SDOs won't take credit cards, can't ship the same day or can't provide the level of customer support that distributors can, according to Bank.
Hundreds of packaging standards
We searched for "packaging" at three standards Web sites. CSSinfo's site yielded a list of more than 400 packaging-related standards documents from a variety of SDOs. The site gives multiple purchasing options, including credit card, check or purchase order. U.S. and Canadian visitors can even request to be invoiced.
Another site, National Resource for Global Standards (www.nssn. org), yielded more than 1귔 documents from a "packaging" search. NSSN describes itself as a cooperative partnership between the American National Standards Institute (ANSI) and U.S. private-sector standards organizations, government agencies and international standards organizations. While the site yielded a greater number of standards for our search, attempts to purchase them were more difficult to compared to CSSinfo. That's because NSSN is meant to be more of a non-profit resource locator, pointing visitors to the SDOs (or sometimes other distributors) for actual order fulfillment.
One beneficial feature that NSSN offers is a subscription service that e-mails subscribers "current status reports on more than 270ꯠ standards under development, revision and maintenance," according to the site. It is possible to focus these updates to only those standards that meet subscriber-defined criteria, such as those relating to packaging or labeling. The service, called Standards Tracking and Automated Reporting (STAR), costs $99 for a single-user, one-year subscription.
A third purveyor of global standards is Global Engineering Documents (http://global.ihs.com). At this site, a search for "packaging" yielded more than 1걄 standards documents. While that's a healthy number of documents, the search results page omitted the individual names of the SDOs that developed the standards, a minor irritation. The SDO is identified once a user clicks on the link to the abstract.
If you know of an interesting packaging site, drop us an e-mail at webplus@packworld.com.