Recently the firm installed Sidel end-of-line packaging systems aimed at improving the efficiency of its overall bottling operations. Highlights included the installation of a Cermex WB46 wraparound case packer including a partition inserter module and a complementary PalAccess palletizer. The result was an increase in the utilization rate of their manufacturing assets and improved case stacking quality on pallets, which in turn have led to improved downstream logistics.
The sparkling wine segment currently accounts for 6.9% of the wine and cider market in Australia, and it's expected to grow further over the next five years. New companies are expected to enter into this segment, and to stay competitive, large industry players like Chandon will have to further adopt automation as part of their production routines.
Sidel and Chandon began working on this particular end-of-line project a few years ago, starting with a number of conceptual layouts based on the available floor space, the packaging design specifications, and Domaine Chandon's technical requirements for the equipment. Wraparound packing is not widely used in this industry, but the Australian sparkling wine producer quickly identified the benefits of using this type of case versus the more commonly seen Regular Slotted Case (RSC) designs.
"Chandon is a true pioneer in their use of this case format," says Julien Claudin, Country Manager for Australia at Sidel. " Despite the challenges involved in coupling this case design with the integration of a partition inserter module within the same piece of equipment, we were very excited to be part of this journey."
To learn about packaging wine in cans, go here.
To see how a contract packager approaches wine, go here.
The Cermex WB46 wraparound case packer is perfectly suited for handling a premium product like sparkling wine. The machine provides extremely smooth bottle handling, regardless of the bottle's design or applied label type. All the contact points between the machine's parts and the bottles are designed to maintain package integrity and to avoid marring of any kind – no matter whether it's handling Special Editions decorated with sleeves or regular Domaine Chandon bottles, which come with paper labels. The carefully designed picking head grabs and transfers six bottles at a time onto the automated partition inserter module that is built into the case packer unit. "We spent time verifying the proposed technical concepts to make sure that the bottles would be handled with extra care, minimizing the risks of damaging any part of the container, including hoods, labels, and sleeves," adds Claudin. Afterwards the product collation is transferred into the wraparound blanks that are then fully enclosed around the bottles to provide a strong and perfectly squared case. The latter is fundamental to ensure proper palletization and successful downstream logistics.
"Our cases have an extremely squared shape and also stack very well on the pallet," says Chris Fraser, Production Supervisor at Domaine Chandon.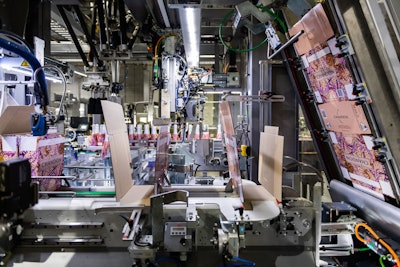 "This means minimal impact on our quality during transportation." Richard McCaughey, Operations Director at Chandon, greatly prefers the new approach to the high level of manual handling that was relied on before." We inserted case partitions by hand, palletized by hand, and forklifted between machines for stretch wrapping," he adds.
Coming out of the Cermex WB46, the cases are labelled and conveyed into the Sidel PalAccess palletizer. This piece of equipment is another fully automated unit with tool-less changeovers, requiring neither a change of parts nor manual adjustments. Looking into the future, the HMI's built-in PalDesigner® software enables operators to design, simulate, and load new pallet patterns without the need of additional programming or specific service intervention. The new operating panel's interface also allows access to the machine's technical documentation, One Point Lesson (OPL) sheets, and specific videos to assist with troubleshooting operations.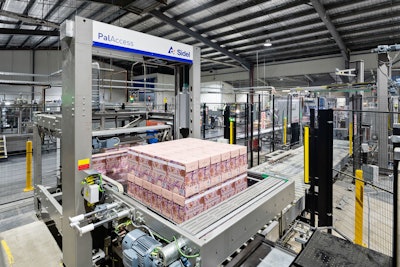 "Throughout the whole process," notes McCaughey, "the Sidel teams were very proactive and helped us analyze some of the most difficult challenges of the project, in particular the automated partition insertion into the cases. One of the doubts we initially had during this project was working with a supplier that has its roots in Europe. We were afraid that the local support they might have provided to an Australian customer was less than what we usually get from local players. But we see now that Sidel is able to combine local proximity with a global footprint. This is key if they want to increase their operations in our region." Claudin confirms that expansion in the Australian and New Zealand markets is indeed a priority for Sidel.
Chandon's end-of-line project has now been running successfully for more than one year, and the firm has been able to achieve higher efficiency levels while reaching their production targets in a growing business environment.
Companies in this article