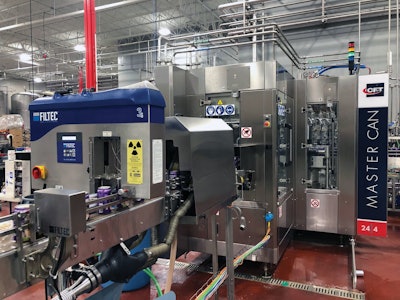 Countless craft brewers now offer cans in addition to glass bottles. In fact, the Brewers Association predicts this is the year that cans will outnumber bottles in distributed craft beer.
But would a brewery go so far as to eliminate bottles altogether? At Fathead's Brewery in the Cleveland suburb of Middleburg Heights, the answer is yes. When the firm installed a new canning line in 2019, management decided to say goodbye to its bottling line.
"As we planned out the canning line we were really thinking we'd keep bottles, too," says Head of Operations Chris Alltmont. "But our bottle filler is only a 12-head machine, so we were running about 75 bottles a minute. That's not nearly as productive or efficient as the 225 per minute we get on our canning line. Not to mention that beer quality is better in cans, for us at least, because we eliminate more oxygen in the head space with cans. And on top of all that, the market seems to be demanding cans from craft brewers."
And so it was that Fathead's went all in on cans. Line integration, depalletizer, and all conveyor connections on the new line are from Ska Fabricating. After single filing of the undecorated cans and an ionized air rinse, shrink sleeve labels are applied by an HSA245 Applicator from Tripack. It features a Rockwell controls package, including a CompactLogix controller, touchscreen HMI, and servo-driven high-speed film delivery with multi-blade knife assembly. Can size changeovers are selected at the touchscreen from a menu of options. The labels are shrunk tight to the cans by a Tripack ST-2-45 Steam Tunnel.
Next is filling, done on a CFT 24-head filler/seamer. A Filtec inspection system then checks for proper fill levels before a Markem-Imaje ink-jet coder marks can bottoms. Then comes a stretch of accumulation conveyor followed by a multi-packer from Switchback that, says Alltmont, "does 12- or 16-oz cans in everything from a four-pack to a 30-pack carton." Hot melt adhesive is applied by a Nordson unit.
At the outfeed of the cartoner is a laser coder from Markem-Imaje that puts date code information on the paperboard cartons. Placement of multi-packs into corrugated trays is done by hand for now, as is palletizing.
Turlock-based Dustbowl Brewing
A few thousand miles west of Fathead's, at Dustbowl Brewery, there's also a new can line in operation. But bottles remain in the mix. "We see significant sales of the bottle format for four of our core beers," says Don Oliver, Brewmaster at the Turlock, Calif., brewery. "One of them, Therapist Imperial IPA, is in a 22-oz bottle, and sales on that item keep growing. So we'll stick with bottles, though in some respects the handwriting's on the wall where bottles are concerned."
Oliver says that by early 2018 it was pretty clear that to not have cans was to miss an opportunity. So as management started to evaluate the firm's capital situation, Dustbowl launched cans by using a mobile canning service to get into the market.
Dustbowl makes good use of this semi-automatic cartoner for cans. Says Brewmaster Don Oliver, "Hand filling and gluing thousands of cartons is less than fun."By 2018, however, in-house canning was in full swing with a filler from Codi handling 12-, 16-, and 19.2-oz sizes. The 12-oz cans are filled at about 50/min. "We decided to order a six-nozzle in-line Codi CCL-45 filler and also relied on Codi for nearly all of the accessory items for the line, including the SH-45 single-head seamer, depalletizer, overhead conveyance, triple twist rinse with ionized air rinser, and accumulation conveyors," says Oliver. The filler, he adds, was especially appealing because it takes the counter pressure filling technology typically only available in large rotary systems and scales it down to an affordable linear filler. The system also features CO2 pre-purge, an integrated snift feature, full control of the filling cycle, and a pump-powered product storage tank to increase tank pressure and thus keep beverages in solution at higher carbonation levels.
For its higher-volume beers, Dustbowl uses pre-printed cans. For special or seasonal beers, pressure-sensitive labels are applied by a Pack Leader labeler. Date coding on the bottom of the cans is done by a Videojet ink-jet unit situated right after the ionized air rinser.
Secondary packaging into paperboard cartons is accomplished with a big assist from an Econocorp Twin Seal carton sealer. "Hand filling and gluing thousands of cartons is less than fun and not very practical," says Oliver. "After looking over a few options, we opted for the Twin Seal. Pushing the cans into the set up carton is still a manual operation, but the machine dispenses the hot melt adhesive and performs the flap folding and compression for a consistent look and reliable package integrity."
To operate the Twin Seal, the operator pushes cans into a carton and then places the loaded carton into the machine with the inner flaps closed. Then the operator pushes the start button. Glue is automatically applied to the underside of the carton flaps and the carton is elevated into a vertical squaring/compression chamber. Finally, sealed cartons are automatically sent down a delivery chute discharge.
One final data point on Dustbowl. From 2018 to 2019, can sales increased 412% while sales of bottles dipped by 31%.
Karbach goes for billboard effect
Cans have been a part of the mix at Houston-based Karbach Brewery for some time now. But steady growth brought a new canning line into the brewery that went into operation in early 2018. Greater speed was a key requirement, but also a priority was a switch from ring carriers for multipacks to paperboard cartons that are erected, loaded, and glued by a system from Westrock.
"We wanted that better billboard effect that you get with the paperboard," says Karbach Brewmaster Eric Warner. "There was also the occasional complaint from consumers who struggle to conveniently snap a can out of the carrier, but mostly it was improved appearance on shelf we were after."
At Karbach, as pallets are discharged from the stretch wrapper, a print-and-apply labeler applies a label to each pallet.Most of the other equipment in the new line was supplied by CFT, which was also the supplier of the first can line installed at Karbach. But at 480 12-oz cans/min, the new line runs twice as fast as the one it replaced. Also filled on the line are 19.2-oz cans.
"The earlier line was pretty much just a depalletizer, rinser, filler/seamer, and some basic conveying," says Warner. "But the new one is fully automated front to back. We also added a can warmer from CFT. Houston is a very humid place, and by warming the cans up to the dewpoint we can avoid condensation, which causes real problems with your paperboard multipack."
Depalletizing is first, of course, and it's done on a CFT Model 102. As cans are conveyed away from the depalletizer they're single filed and a Videojet 1560 ink-jet coder puts lot and date code on can bottoms. Cans are upended on a CFT twist and rinse conveyor section, where filtered water accomplishes the rinsing.
Next in line is a CFT monoblock filler/seamer. The counterpressure filler has 50 servo-controlled valves and is followed by a six-station rotary seamer. "We like that the filler and seamer both come from the one machine builder, as opposed to a filler from one supplier having to be integrated with a seamer from another," says Warner. "And we're always looking for low oxygen uptake on the beer, which the counterpressure filler gives us."
Exiting the seamer, the cans go through the CFT can warmer, which is followed by air knives to blow moisture from the cans and then a Filtec X-ray inspection system checks to see if fill levels are correct. The Westrock cartoner produces 6- or 12-count multipacks, and then a CFT system puts multipacks into a corrugated tray.
A palletizer followed by a stretch wrapper, both from CFT, are welcome additions, says Warner. "It used to be done manually," he notes.
One last piece of equipment on the line is a Videojet thermal-transfer print-and-apply tamp labeler that puts a label on each stretchwrapped pallet. Information on the label includes a time stamp, a best-enjoyed-by date, a produced-on date, and a pallet number for tracking purposes.
Warner says that just after Karbach had inked the deal for the new canning line the brewery was acquired by Anheuser-Busch-Inbev. "But ABI was familiar with the CFT equipment they'd seen in other breweries they'd purchased, so they were perfectly comfortable with the new line going forward," says Warner.
When asked if equipment can make or break the production of a good beer, Warner says yes and no. "Certainly if your equipment can't control key parameters necessary to make quality shelf stable beer then you shouldn't be using it," he notes. "But in terms of sophistication and speed, it doesn't really matter if it's low-speed/low output or fast and highly sophisticated. The key is that the economics have to match the size and speed of your brewery and you have to have the right team in place to take care of the equipment, no matter how simple or complex it may be. For me the CFT Group equipment has proven to be a great value. There may be more expensive options out there, but they aren't necessarily better."
Signature shine preserved
The folks at Coppertail Brewing worked closely with their label converter to make sure that the full-body shrink-sleeve label applied to cans had the same unique tactility as the label that gets applied to bottles.
As Coppertail Brewing of Tampa, Fla., added cans to its mix of offerings, the firm had very specific requirements where can decoration was concerned. Management wanted to make sure that the very fine details of the unique art work gracing the labels on Coppertail's bottles would be brought to life on the labels applied to its cans. Not only was it an issue of artistic integrity, the can labels had to have the same unique tactility that Coppertail's bottle labels were known for.
So Coppertail turned to DWS Printing, whose creative team worked closely with the Coppertail team re-imagining and optimizing the artwork for shrink sleeve printing in eight colors on a flexo press from Omet while adding a few magical touches. They used tinted knockouts to create a copper glint and a matte coating to ensure a satisfying tactile feel. DWS also applies the labels to the cans for Coppertail.
The result? Because DWS is able to produce a label that meets Coppertail's aesthetic requirements, and because DWS supplies labeled cans in quantities that the brewery can manage, Coppertail was able to expand into new distribution channels with its signature shine intact.
Can coding and in-house labeling
Family-owned and a proud producer of craft beer since 1996, Wild Onion Brewing Co. of Lake Barrington, Ill., has expanded over the last few years, adding a large 50-barrel system into a new addition on the brewery. The increased capacity lets them brew their flagship brands like Misfit IPA easily while using their older 17-barrel system to do seasonal and experimental brews. They also opened a new satellite location closer to Chicago in Oak Park, Ill., that serves made-from-scratch dishes specifically designed to incorporate their ales and lagers.
Founding Brewer Mike Kainz has invested impressively in the new 50-barrel system to enhance flavor profiles and increase production efficiency. A new centrifugal filtering system has replaced their old process, allowing their beers to retain their flavor complexities and hop aromas often stripped out by conventional filtering. This also adds to the shelf stability of their products. Their Wild Goose filling system is attached to a Ska depalletizer for consistent filling and canning of different size containers. This has allowed them to start canning new 19.2-oz tall boy cans that are popular at music venues and sports events.
Among the recent additions to the equipment operating at Wild Onion is a continuous ink-jet coder that delivers crisp, readable date codes on cans.One of their most recent equipment additions is a BestCode continuous ink-jet system from Weber Packaging. Installed right after the cans leave the filler, a "Packaged by" date is added to the botton edge of the can. It is especially important for brewers to have this information on all their products to ensure that only fresh products are distributed to stores and venues. Brewers know that some beers are shelf-stable for longer periods of time than other beers. If customers get an out-of date beer and it tastes off, they might judge that all the brewery's beers are bad. It pays to keep things fresh and tasting their best.
While Wild Onion uses preprinted cans for their flagship brands, they are trying a new creative solution for their smaller seasonal runs and experimental beers. It takes months to get cans printed, and minimum order quantities are in the range of a half-truckload. If a beer is not selling fast enough, a brewer could be stuck with a lot of useless cans. To circumvent those issues, Wild Onion is getting some of their cans printed a matte black with just a ring of logo identification at the top of the can. These cans are ordered in bulk and can be used on all their small-batch runs.
Continuous ink-jet coder operating at Wild Onion delivers crisp, readable date codes on cans.By purchasing custom digitally-printed labels from Weber Packaging, they can get an up-scale branded look with the labels as the unique element for each flavor. Plus the labels can be purchased in the minimal amounts needed to match the brew run. Weber Packaging prints the labels—usually a white gloss material with a gloss protective lamination—on an HP 6900 digital press and supplies rolls of pressure-sensitive labels that the brewery applies on a labeler supplied by In-Line Packaging Systems.
Right now Wild Onion is brewing a host of great seasonal beers. Hair of the Frog, a Blonde Ale, is a collaboration with Chicago's Brookfield Zoo, and 10% of all sales go to the Zoo. The Drago Bourbon Barrel Aged Russian Imperial Stout is made in a couple of varieties, including Cinnamon Smores. And, of course, their flagship Misfit IPA had great success with the Pineapple Misfit version. With recreational cannabis now legal in the state of Illinois, could there be a CBD or THC version in the future?
Visibility into brewing operations
Founded in 1998, Ithaca Beer Co. now brews about 25,000 barrels of beer annually and distributes it to 15 states. To ensure continued quality, consistency, and profitability of its craft brews as the company scales up, the Ithaca, NY, brewery automated part of its brewing process by installing a standardized yet customizable control platform to gain visibility into its operations and drive efficiency while still having the flexibility to fully automate its production in the future.
The system integrator that implemented the new Factory Talk Craft Brew solution from Rockwell Automation is OBG, a member of the Rockwell Automation Partner Network program. The pre-configured system offers cost-effective, flexible control to easily customize and automate a craft brewhouse. The platform is pre-engineered, -programmed, -tested, and -validated, significantly reducing commissioning and startup time.
"It was important for us to look for a solution that was easy to customize," says Andrew Hausman, Head of Brewing Operations at Ithaca. "We do not have a fully automated brewing process, so modifications were necessary. Plus, the solution is scalable for future growth and production changes, which was also an important part of our selection process."
With the FactoryTalk Craft Brew system, Ithaca Beer Co. is able to leverage most of its current assets and installed base, including existing I/O, variable-speed drives, and controllers—another key reason the company decided to standardize on the Rockwell platform.
Integrated and automated batch reporting offers electronic batch information directly through the HMI. In the past, the brewers had to manually write a batch report for every brew, which included entering important recipe information like gravities and pH levels manually. The new solution offers visualization and the capability to store and trend key batch data. It also simplifies troubleshooting efforts and allows brewers to better compare a "golden batch" to a batch with quality problems, saving hours of recipe adjustment time.
The FactoryTalk Craft Brew solution from Rockwell Automation helped Ithaca Beer Co. improve visibility into key batch data to simplify troubleshooting and minimize costly downtime.Using the pre-developed graphics within the FactoryTalk Craft Brew platform, the HMIs have a modern and more structured look and feel with accurate and consistent naming and tags. "It used to take us weeks to train a new brewer due to the additional difficulty of learning an operating system that had incomplete information," Hausman says. "Today, managers can train a new brewer in days. Everything is well-documented in the system and has an updated, more modern look."
The new solution also adds a layer of functionality to the brew tanks that Ithaca didn't have in the past. As part of the batch system, the brewery now has a fermentation scheduler with easy-to-add functionalities. This allows brewers to create a fermentation schedule within the system and choose which schedule to align to each individual vessel.
Moving to the semi-automated solution produced instant results for Ithaca Beer Co. Brew operations, for example, are now stable and reliable. "We have peace of mind in our operations, and our operators gained confidence in the process they didn't have before," Hausman says.
The modern HMIs use consistent and accurate naming, making it easier for the team to train new brewers and add a layer of visibility into operations for easier and faster troubleshooting. The new solution also provides a smoother and more structured process for recipe management. Recipe change and recipe implementation are simplified through the HMI, allowing brewers more time to concentrate on value-added tasks, including sanitation and quality checks.
With a direct line of sight into equipment diagnostics and key batch data, downtime has been reduced significantly. Brewers can troubleshoot system and recipe issues that arise more quickly. Since installing the new solution, the brewery has not experienced any significant downtime event.
"One day of downtime in this business can equate to a loss of approximately $75,000 in revenue, and we experienced days of downtime a couple times a year with our old system," Hausman says.
Editor's note: We thank the Brewers Association for sharing with us the members-only Packaging Trends Recap. To learn more on the craft brewing market, visit www.brewersassociation.org.

Companies in this article
Videos from Weber Packaging Solutions
Videos from Nordson Corporation