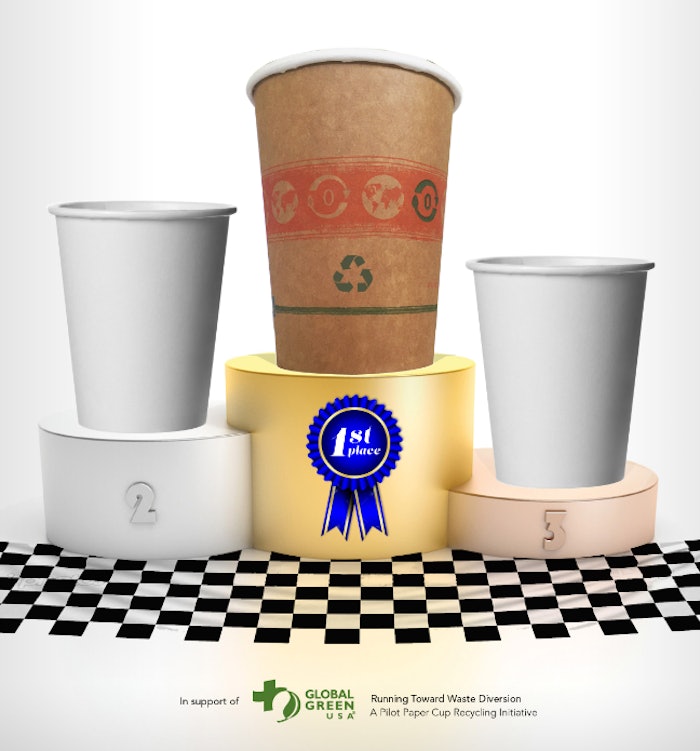 Santa Monica-based national environmental non-profit Global Green USA is teaming up with the largest cross country meet in the U.S., the Portage Invite in Portage, MI, in October 2015, to put recyclable paper cups to the test, both for performance and for recyclability at a local paper mill.
Using cups developed by Coalition for Resource Recovery (CoRR) member company LBP Manufacturing that have passed a recyclability protocol developed by CoRR member Western Michigan University (WMU), Global Green USA will coordinate their use, collection, and recycling at a paper mill in Kalamazoo, MI operated by Graphic Packaging. Says Global Green, the successful recovery and recycling of these cups will represent a key step in identifying the best systems for keeping valuable paper fiber in the market as high-quality products, and out of landfills.
As the organization notes, unlike many other paper sources, such as newsprint and magazines, foodservice packaging is a growing stream but is seldom recovered for recycling. According to the EPA, 5.6 million tons of foodservice packaging is landfilled in the U.S. each year, releasing greenhouse gas emissions equivalent to six coal-fired power plants. Since 2009, CoRR has been working to divert these materials into new products.
"Global Green is committed to helping recover commonly landfilled waste streams, including paper cups and other coated packaging items," says Lily Kelly, Senior Program Associate at Global Green USA and the project lead."When packaging is designed to be recovered, it is a major environmental and financial win. Demonstrating that these cups, which have passed WMU's recyclability protocol, can be recovered at a full-scale paper mill can build confidence in their potential as a paper input, ease pressure on our forests, and prevent greenhouse gas emissions."
The Portage Invite organizers are enthusiastic about the prospect of recovering the 10,000 cups used at each event. "A lot of the athletes competing at the Portage Invite care about their health and the health of our environment," says Matt Swanson, the Portage Northern High School Cross Country and Track & Field Coach and one of the organizers of the race. "We want to see these cups recovered, and we want them to get turned into new paper if at all possible."
Other road races across the country have echoed these sentiments, stating that they are eager to work with Global Green USA on future pilots, and with their local haulers and mills, to ensure that their cups are recovered.
Paper mills that serve the regions near the road races are likewise interested in determining whether the cup items will prove a good source of fiber. "We're eager to get new supplies of recycled domestic feedstock and support the paper industryin the U.S.," says Mike Farrell, Vice President - Recycled Mill Division for Graphic Packaging International, whose mill will be accepting the cups. "Recycling cups can be challenging, and we believe these pilots can demonstrate that cups that are designed for recyclability can be brought to our paper mill. We're glad to work with Global Green USA and road races on this important initiative."
CoRR member LBP Manufacturing donated the cups, which are commercially available and designedwith sustainability in mind,for the race event. "Our goal is to show that it is possible to makehigh-quality, effective cups that are also designed for recovery at recycled paper mills," says Thomas Fu, LBP Vice President of Global Innovation. "We are excited to provide these cups, and participate in pilots that can build the system for their recovery, so thatbrand owners andcustomers alikecan know they can dispose of these cups responsibly. It's good business, and good for the planet."
Companies in this article