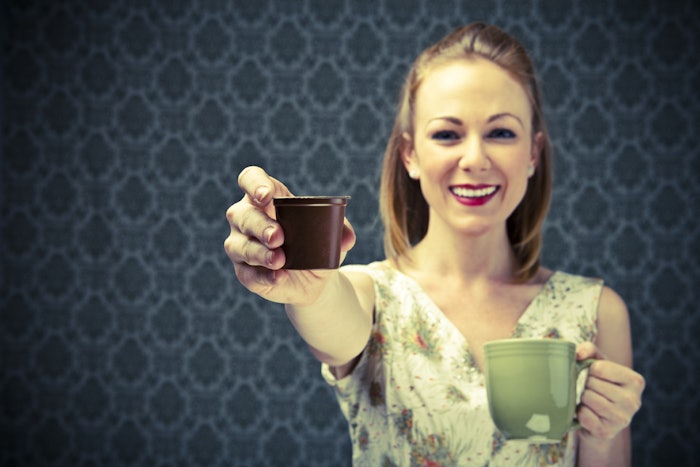 While non-recyclable/non-compostable coffee capsules for single-serve brewing systems may be getting a lot of bad press due the massive amount of packaging waste they generate, a new study from PAC, Packaging Consortium tells a much greener story. In fact, it reports that single-serve coffee may be a better choice for the world's environment than traditional brewed coffee for most coffee drinkers, especially when it comes to reducing food waste.
The study, "Life Cycle Assessment of coffee consumption: comparison of single-serve coffee and bulk coffee brewing," looks at the full environmental impacts of coffee—including its effect on ecosystems, climate change, and water—throughout all steps of its life cycle, from farm to processor to consumer to waste disposal.
The research found that wasted coffee and electricity consumption during brewing and heating are the key parameters in the comparison between single-serve coffee and brewed, bulk coffee, rather than packaging. It identifies three key benefits of single-serve coffee:
Single-serve coffee uses an exact serving of fresh coffee in a controlled process, leading to minimal coffee wastage.
Drip-brewed coffee making is consumer controlled—consumers are more likely to prepare more brewed coffee than they need, with the leftover coffee going down the kitchen sink.
Bulk brewing systems typically use a hot plate to keep the coffee warm and can use more energy than single-serve systems.
Says James D. Downham, PAC CEO, "We understand that people are concerned about the environmental impacts of single-serve packaging. So we wanted to support a transparent, credible study that would assess the big picture environmentally, including the impacts on the staggering global issues of food loss and waste, because every time someone empties a coffee pot down the drain, the water, energy, and resources used from the farm all the way to that home are going down the drain too." According to the United Nations Environment Program and the World Resources Institute, 33% of all food produced worldwide is wasted.
The study was carried out by Quantis Canada for PAC, in cooperation with Mother Parkers Tea & Coffee and Club Coffee. To address the packaging aspect of the life cycle, Mother Parker's has created the recyclable RealCup capsule, while Club Coffee plans to launch a 100% compostable capsule, the PürPod 100, in fall 2015. [Editor's note: Other brands introducing more sustainable coffee capsule options include Keurig and Cameron's Coffee.)