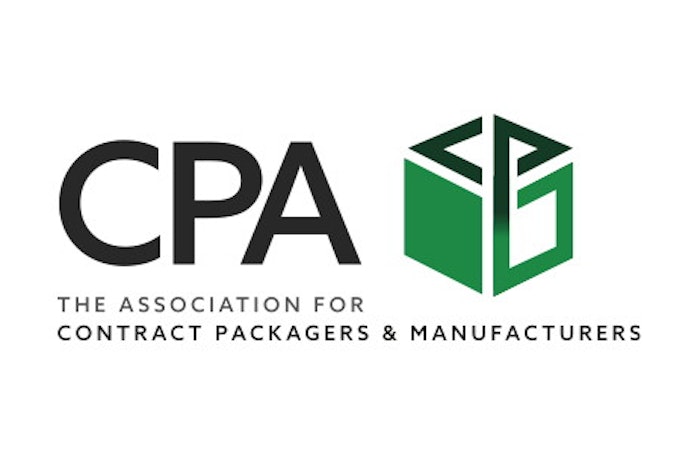 Contract Packaging Sourcing Center featured at PACK EXPO East
The Contract Packaging Association hosted the Contract Packaging Sourcing Center in the Association Partner Pavilion at PACK EXPO East in Philadelphia, Feb. 27 to March 1. The Sourcing Center provided a place for brand owners interested in contract packaging and manufacturing services to learn about CPA members and how to source these service providers. Visitors had the opportunity to ask questions and interact with industry experts. The Sourcing Center was also a place for contract packagers and manufacturers to learn about CPA and the benefits of membership.
"The show floor at PACK EXPO East was buzzing with companies producing products for the pharmaceutical, food and beverage, personal care, household, and other industries looking for innovative solutions, on-site resources, and face-to-face connections in the packaging industry," says Jim Pittas, Senior Vice President of PMMI, The Association for Packaging and Processing Technologies. "The Association Partner Pavilion provided a one-stop location for partner organizations to collaborate with leading industry organizations and served as a valuable resource for more than 7,000 attendees present at the show."
CPA PACK EXPO Intl. Presentation: "The Secret Sauce of Contract Packaging"
During PACK EXPO International in November 2016, CPA hosted a successful presentation, "The Secret Sauce of Contract Packaging," at the show's Innovation Stage. This was a live case study of how contract packager and CPA member Bell-Carter Packaging helped pancake mix brand Birch Benders grow into a booming business.
Lizzi Ackerman, COO of Birch Benders, also known as Dr. Pancake, told her story of how the brand grew its micro-pancakery business through contract packaging to a full room of event attendees. Mike Repp, Vice President & General Manager of Bell-Carter Packaging, explained his role as contract packager and partner to Birch Benders. Repp told how the valuable RFQ Portal on the CPA website helped link him with Ackerman and how the connection proved monetarily beneficial to both parties.
Former CPA Managing Director Nikki Johnson moderated the interactive discussion, which included information on how the winning relationship began and addressed audience questions on the challenges both companies faced during the process and the secrets to their mutual success.
CPA & IoPP Team Up for Webinar
In January 2017, CPA and the Institute of Packaging Professionals (IoPP) co-hosted a live webinar, "How Contract Packagers Can Help You Adapt to Trends Driving Supply Chain Changes." This webinar, moderated by CPA President Vicky Smitley, discussed how consumer buying habits are demanding immediate availability and delivery, which is driving changes all throughout the supply chain.
Panelists included Robert Reinders, President of Performance Packaging of Nevada, Jason Tham, CEO of Nulogy Corp., and Mike Repp, Vice President & General Manager of Bell-Carter Packaging. For those who missed the live webinar, it is free to view in the Webinars On-Demand section of CPA's website, under the Educational Resource tab.
CPA Partners with The Packaging School
CPA has formed a new partnership with The Packaging School, an exclusive licensee of a professional packaging curriculum developed at Clemson University. This partnership gives CPA members greater business development tools that leverage CPA's industry presence and partnerships, as well as more networking and educational offerings than ever before.
"CPA is proud to partner with The Packaging School to offer online education to our members and their employees," says CPA President Vicky Smitley. "The current curriculum is very relevant to our membership, and we will be working with The Packaging School to add even more courses specific to contract packaging in the future."
CPA members can utilize PackagingSchool.com to access key topics, master new areas of expertise, and build a professional network. As an added benefit to this partnership, CPA members receive a 10% discount on all course registrations via a coupon code provided upon membership enrollment or renewal.
As a global learning platform, The Packaging School is a comprehensive online certificate program built on the foundations of packaging. Composed of 12 online courses, the Professional Certificate of Packaging teaches the materials, processes, and influences shaping the advancement of the packaging industry. Video lessons are accessible on any device at any time, enabling busy professionals to learn at a pace that suits their schedule.
"Training, education, and development are the tools to employee growth and business success. The Packaging School is excited to expand our online education offerings to the members of CPA," says Director of The Packaging School, Sara Shumpert. "Together we will enable more contract packaging firms to properly train their employees, thus increasing job satisfaction and productivity."
Learn more about CPA and the courses offered from The Packaging School.
Position Changes at CPA
Effective at the start of 2017, CPA Managing Director Nikki Johnson left her position with CPA to pursue another exciting opportunity in our industry. We want to thank Nikki for her outstanding leadership and progress in bringing CPA along in many key areas over the last three years.
The board of directors is actively pursuing a candidate to fill this vacancy. We are in talks with some very exciting candidates and plan to make a hiring decision prior to the annual meeting. Rest assured, we are seeking a candidate that will hit the ground running and continue the service and growth momentum. Stay tuned for a welcome announcement as we make this exciting move forward for CPA.
Best of luck to you Nikki! We look forward to working with you as a member company and future CPA volunteer.