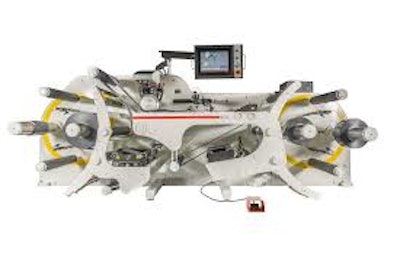 It is simple to return to the same setup by utilizing the unlimited recipe feature which can be accessed through the intuitive 15" touchscreen controls. The AccraSeam FC can run at a speeds up to 400 mpm and make unwind and rewind splices at full speed. An unwind roll change/splice produces only four meters of waste per splice.
At 421 cm [14 feet] long and 182 cm [6 feet] wide, the AccraSeam FC has a compact footprint, specifically designed to be operated by a single person. The dual shaft unwind and rewind turrets have flange mounted pneumatic shafts with electronic core offset, making core size changes easy. The Stanford Layflat Inspector and Ultrasonic Sensor monitor the width of the layflat while running, providing both a digital and printed report – right there at the machine. This monitoring system comes fully integrated into the AccraSeam FC but is available as a stand-alone system.
The servo-driven AccraSeam FC incorporates many of the superior features associated with the Stanford product line name, including servo controlled solvent dispense, electronic oscillation, integrated web guide and precision tension control. All these features are designed to offer low waste at high speeds while producing a finished product with quality that can be easily replicated during future material runs.
Companies in this article