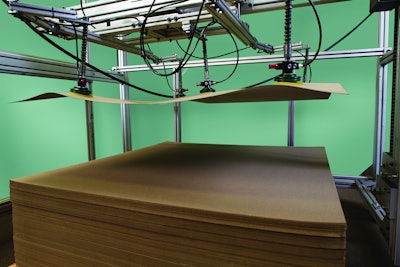 Sonoco, one of the largest diversified global packaging companies, has expanded its line of FlatStack paperboard tier sheets to include FlatStack Ultralight, a value-priced alternative to lightweight gypsum and paperboard sheets.
"The new Ultralight option offers our customers exceptional performance for a great price," says Michael Krawson, Account Manager for sheets. "Plus, it comes straight from our paper mills, meaning we can assure consistency in quality and security of supply."
With the introduction of Sonoco's Ultralight grade, Sonoco now produces sheets in the caliper range of 10 to 50 pt. Sonoco's wide range in caliper offering, coupled with in-house design and testing capabilities, enables the company to create custom solutions to meet customers' unique manufacturing requirements (including integration with automated equipment), saving them time and money.
The Ultralight option supplements Sonoco's original FlatStack paperboard tier sheet. Made from 100% recycled fibers and completely recyclable, the original FlatStack paperboard sheets are a cost-effective solution that protects products on pallets during shipping, storage, and retail display. Compared to typical corrugated tier sheets, FlatStack sheets offer a minimum 5% reduction in weight and generally garner a minimum of 15% cost savings across the supply chain. They also offer five times the amount of sheets per unit storage, and more than twice as many sheets shipped per truckload.
Companies in this article