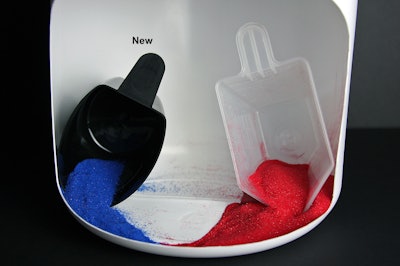 Closure and custom-molded products manufacturer HQC Inc.has released a new 8-oz. rounded-front scoop, making it ideal for granular and powdered products that are packaged in a rounded-bottom rigid container or bag/pouch flexible packaging format.
The new HQC 8-oz. rounded-front scoop is ideal for manufacturers of granular products and nutraceutical suppliers of powdered supplements. Unlike scoops that are square or have a squared-off front, the rounded-front scoop can be set flush with the contour of the bottom of a rigid container. Because squared-front scoops create a void when scraping the radius of a container, unused product cannot be completely taken out of a container. The squared-front scoop is also not a user-friendly option for contents packaged in flexible packaging materials. HQC saw this market need and determined that a rounded-front scoop should be brought to market, now manufacturing and supplying the large 8-oz. size rounded-front scoop.
The new HQC 8-oz. rounded-front scoop can be scraped along and flush with the contour of a rigid container and allows for all of the powder to be scooped out of a rounded-bottom rigid container. For products packaged in a flexible packaging bag or pouch, the rounded design lessens the likelihood that the scoop will puncture the package, as can happen with squared-front scoop designs. The rounded-front design not only makes the scoop easier to handle, it also helps eliminate product waste.
The HQC 8-oz. scoop is available in stock colors, but can also be customized, offering solid colors or tinted colors, and in clarified material. HQC's current lead time for the 8 ounce rounded-front scoop is two to four weeks.
HQC is proud to produce products that are manufactured in the USA in a plant that is audited by NSF International to SQF Level 3 standards; and also audited by BSI using ISO-9001:2008 quality management standards; ISO-13485:2003 regulatory medical device standards; and Interstate Milk Shippers (IMS) by the Illinois Department of Public Health. These certifications help to ensure the quality of the product. HQC, Inc. can supply certificates of compliance to its customers to show that the new 8-oz. scoop is made with quality materials and can be verified accordingly.
Blair Pasternak, HQC president, says: "HQC was presented with a problem that may seem like a small inconvenience, but actually is a deterrent to a customer's product being used in its entirety. The current square-front scoop has an outdated look, does not capture the entire product, and is not conducive to being used in insertion automation. The current design resolves all of those issues for the customer and the consumer."
Companies in this article