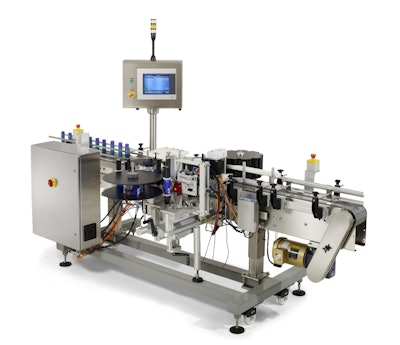 The Spectra™ line of modular front/back and wrap customized labeling systems is designed to deliver exclusive and broad-based performance engineered to match unique applications.
Whether it is simultaneous label application, multiple container shape capabilities, or overall versatile application effectiveness, each system is engineered for full integration to deliver total cost of ownership with truly effective ROI. And to ensure problem-free integration, WSAutomation conducts field trials, testing, and assists with training, installation and implementation.
"We custom engineer and manufacture Spectra™ equipment systems to match your production requirements," notes Bob White, general manager, WSAutomation. "This ensures dependability, flexibility, and long-term durability for even the most demanding high-speed, quick-changeover, and around-the-clock applications."
Every Spectra system is equipped with rugged, state-of-the-art components designed to provide years of high productivity and low-maintenance operation. And, the standard equipment components can be custom enhanced to meet additional requirements.
"We utilize control components from B&R Industrial Automation, allowing for a multitude of options in label placement and speed," White said. "This also allows for manuals to be uploaded as videos, PowerPoints or pictures on screen explaining various set up or fault steps. All of this combines to make the integration and operation of Spectra labeling systems easier and more effective."
The Spectra labeling system is the ideal blend of label application engineering and full system integration, delivering a broad range of production capabilities for contract packagers and products in health and beauty, OTC drugs, automotive aftermarket, beverage, household chemical, and tobacco.
The Spectra labeling system:
Features a custom modular design that allows for broad versatility in material handling and a variety of container application options.
Is available with the WSAutomation Lightning™ 50, Lightning™ 100, or HERMA labeling heads.
Features servo drives for dependable speed and accuracy.
Offers alignment options including feed screws, alignment belts, alignment chains, and guide rails, all specific to application requirements.
Has conveyor lengths, types and widths that can be easily tailored to available plant space and product dimensions.
Comes available with Smart HMI Technology, providing manuals, troubleshooting guides and videos directly on the HMI screen.
Can be configured as a side apply, front/back, front/back wrap, standalone wrap, top and/or bottom labeling system.
Is available with redundant labeling capabilities, which helps minimize downtime.
Comes with a full range of vision system options available for product, label, barcode, and lot-code verification, and reject systems.
Has Ethernet connectivity for remote monitoring and enterprise system interface.
WSAutomation engineers and designs label application equipment to maximize productivity. They serve markets from food and beverage to household products, personal care to over-the-counter health products, medical to wine and spirits. WSAutomation has the knowledge and expertise to deliver label application solutions across a broad platform of product categories and production environments. 
Visit WSAutomation to see the Spectra labeling system at booth# C-3414 in the Central Hall at PACK EXPO.
www.wspackaging.com
Companies in this article